Titanium Tension Set Diamond Rings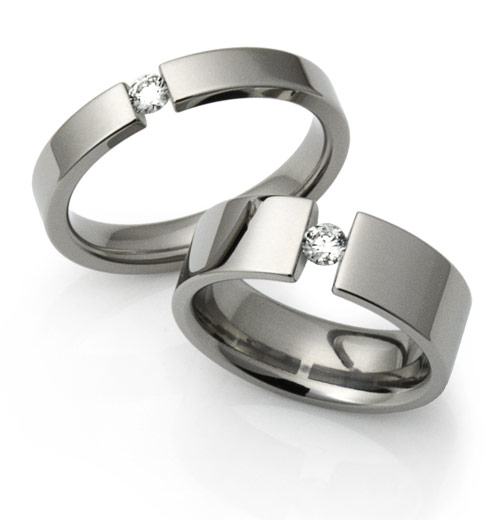 Tension set diamond rings have grown in popularity in the last two decades, as jewelry customers began taking note of the uniqueness of these bands. A tension set diamond ring is created by suspending a jeweled stone between the two edges of the band. The metal of the ring acts like a tight spring and uses pressure to hold the stone in place. Using this method allows the stone to be secured without the use of prongs, as in a traditional setting.
The benefits of this technique is that without the prongs, the stone appears to float in midair and allows more light to shine through the gemstone, giving it extra brilliance and shine.
However, due to the amount of pressure required to hold the diamond firmly in place, tension set diamond rings require the use of a stronger metal than traditional yellow gold. Platinum, titanium, and tungsten are more recommended alloys. While all three are nearly indestructible, with incredible resiliency against bending, breaking, or deformation, titanium and tungsten are considerably less expensive than platinum. They also weigh only a third of other popular jewelry metals.
Titanium Style is a premier provider of titanium and tungsten jewelry and specializes in tension set diamond rings. The Ohio based jewelry designer and creator started out creating custom titanium and tungsten jewelry for local orders. As the demand for their work has grown, they expanded their product line and began offering their stunning pieces online.
They use premium grades of titanium (Especially Hard Airspace Titanium Ti-662) and high quality gemstones in the construction of their tension set rings. All of their rings are hallmarked with their grade of titanium and karat mark, guaranteeing the purity and quality of the alloys used in their making.
In addition to picking a stone, customers are also presented with a number of other options to customize their tension set diamond rings. They can opt to add an inlay of a contrasting metal. Grooves can also be added. There are different edge options to decide between, including domed, squared, or beveled, for instance.
The finish on a titanium band can be shiny or buffed or even hand-hammered for more unique look. Daring couples may even choose a combination of finishes, such as a hammered edge and a smooth inlay. Another benefit to titanium is its resistance to taking on scratches or nicks. The hard quality of the metal is difficult to scratch and if any surface marks appear, they are easily buffed out, keeping the ring looking beautiful for a lifetime. Titanium Style even offers a Lifetime Refinishing policy which allows the customer to send their jewelry piece in twice per year for a complimentary refinishing.
All titanium jewelry from Titanium Style also comes with a Lifetime Warranty, allowing customers to order their custom tension set diamond rings with complete confidence.