Mens Wedding Rings Titanium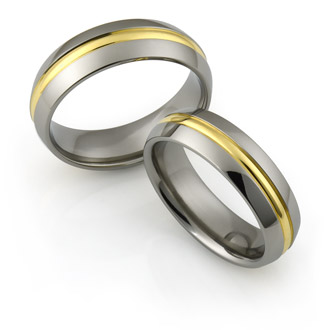 When looking for men's wedding rings, titanium and tungsten are some of the most sought after metals because of their durability and strength. They can withstand extreme conditions without bending or breaking and keep their shine and resilience. At Avant-Garde Titanium, we offer a variety of wedding band options for men and women at affordable prices.
We are based in Southern Ohio. We started as a special order shop catering to local jewelers and private clients. Over the course of a few years, we rapidly expanded becoming the company we are today. We are able to offer a wide selection of titanium rings, necklaces and other contemporary to the vast population via the Internet.
Our focus is to create quality hand made jewelry. We use the highest quality metals for our jewelry. Each ring is a work of art and it brings delight and satisfaction for our many customers. For men's wedding rings, titanium is used because it is so strong and durable. This is particularly appealing to men who regularly use their hands or play a lot of sports. Our rings are all sized correctly and are comfortable to wear on a daily basis.
Men particularly like the idea that they are wearing a piece of machinery. Titanium has been used in many heavy-duty industries such as aerospace and airplane manufacturing. For men's wedding rings, titanium becomes one of the most appealing metals. It will never tarnish or cause any kind of skin irritation. That means even people with the most sensitive skin can still enjoy wearing a symbol of their love and commitment.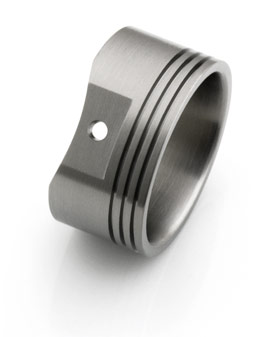 Titanium Piston Ring
We know that when choosing men's wedding rings titanium, tungsten and other metals are taken into serious consideration. It is important to consider many factors when choosing the right metal for your wedding bands. Your circumstances and lifestyle can play an important role in choosing the right wedding bands. That is why titanium and tungsten have been popular for the past decade.
We offer quality mens wedding rings Titanium and tungsten are some of the strongest metals in the world. We also offer top-notch customer service and a convenient way to place and track your order online. Our goal is your satisfaction. That is why we offer a lifetime warranty on our jewelry and a 14-day money back guarantee if you are not completely satisfied with your purchase.
Please browse our website and review our guarantees, warranties and testimonials. We have served many happy customers throughout the years and it is their expression of gratitude and satisfaction that is most rewarding to us. We hope you will see the quality and value you receive from our quality jewelry and customer service. When it comes to mens wedding rings titanium or tungsten is the best way to go.