Mens Wedding Bands Handcrafted in Titanium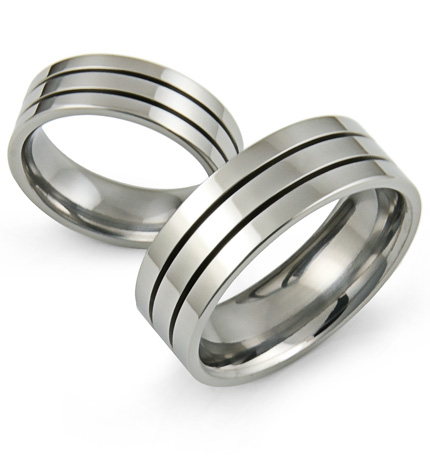 Shop for Titanium Wedding Bands at TitaniumStyle.com
When comparing metals best for creating mens wedding bands, titanium should be seriously considered. The growing trend of titanium jewelry is easy to understand. Rings and other jewelry made from this metal are nearly indestructible, lightweight, classy, and surprisingly inexpensive, making them great choices for any man.
Strength and durability are important factors in mens wedding bands. Titanium is one of nature's hardest alloys. The metal resists breaking, bending, or deformation, even under extreme conditions. Any scratches or nicks which may appear on the surface will be shallow and can easily be buffed out. However, in spite of its toughness, titanium is incredibly lightweight. In fact, it weighs in at only about a third of the weight of gold. Titanium is also hypoallergenic, making it a great choice for all skin types.
As the popularity of titanium wedding bands has grown, the variety of designs available has also increased. At Titanium Style, they specialize in custom mens wedding bands, titanium and Tungsten Carbide being the metals ordered most often.
Titanium Style is an Ohio based jewelry store which got its start as a small, custom jewelry shop which served the local area. As the demand for titanium jewelry increased, they expanded their line of premium products and made them available nationwide through the Internet.
They now offer a variety of styles of titanium wedding bands for men, with custom options available to reflect the groom's personal taste, hobbies and interests, or even his profession.
Popular Men's Titanium Wedding Bands
A common customization is a metal inlay added to mens wedding bands. Titanium is set off by a contrasting metal which runs around the center of the band. Inlays are available in yellow gold, rose gold, white gold, platinum or silver. For a more contemporary look, they also offer rubber or ceramic inlays.
Applying different finishes to the titanium can further individualize a wedding band. Customers can choose from a clean, smooth appearance or a hand-hammered design. For something truly unique, they can combine the finishes, with smooth edges and a hammered center.
For the groom who enjoys color, a jeweled stone can be added to the titanium band. This can be accomplished with direct setting, where the stone is placed directly into the titanium band to lay flush or with tension setting, which suspends the stone between the two edges of the band, using the band's own pressure to hold the jewel in place.
TitaniumStyle uses only the highest quality titanium available to create all of their mens wedding bands Titanium bands created by their talented team all come with a Lifetime Warranty. The Warranty protects the buyer in the event of any material or manufacturer defects and demonstrates their commitment to producing exquisite jewelry to their customer's satisfaction.