Mens Titanium Wedding Bands & Rings
If you are looking for a wedding ring that can last longer than the wedding, consider titanium. Mens titanium wedding bands are rapidly growing in popularity. Why is this? In one word: durability.
Traditionally, many men have opted not to wear a wedding ring because of their occupations. Husbands working in trade jobs that require the use of their hands find that their gold bands easily bend, scratch, and tarnish beyond recognition. However, mens titanium wedding bands provide an affordable, attractive solution to this problem.
Titanium rings boast a silver color, similar to platinum, but darker and richer. Titanium rings are also lighter, weighing in at only a third of what gold weighs. Compared to a gold or silver ring, mens titanium wedding bands can easily have any scratches or surface marring buffed out, giving it a like-new appearance once again.
Avant-Garde forms their mens titanium wedding bands from aircraft grade titanium Ti-64, Ti-662, (the hardest alloy), and Ti-999 (the purest alloy). All of their rings are hallmarked with a specific grade of titanium and a karat mark, guaranteeing the purity and quality of the metals used to make them.
They also offer a wide variety of custom options for their customers. Each piece is handmade using the highest quality materials. A domed band boasts edges with a rounded appearance while a flat band presents more squared off edges. A groom could choose a simple classic domed band and wish to add grooves and/or bevels to make it unique.
Is your guy a little rough around the edges? Perhaps he should look at the line of hammered mens titanium bands. A variety of designs and finishes are available to be laser textured or hand hammered into the rings. One could even opt for a combination of finishes with smooth outer edges and a hammered inner stripe.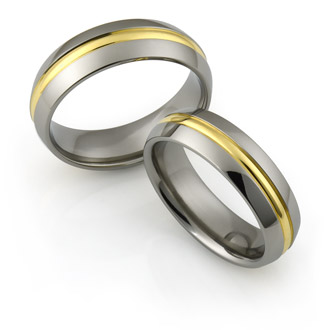 An assortment of precious metal inlays are also available to further customize the mens titanium wedding bands. Customers can choose from yellow gold, rose gold, white gold, platinum, or silver. These inlays are a perfect opportunity to let the groom reveal his own distinct style and personality, whether that is bold and confident or more understated and sophisticated.
Jeweled stones can also be added to a titanium ring to add a bit of flair. This can be done with direct setting. Direct setting is where the stone is placed into the titanium band to lay flush. Another method is tension setting, which allows the stone to be suspended between two edges of the band, held in place by the pressure of the titanium band itself.
Whatever style and features you select, all of Avant Garde's mens titanium wedding bands are guaranteed to be classy and last forever.