Men's Titanium Bracelets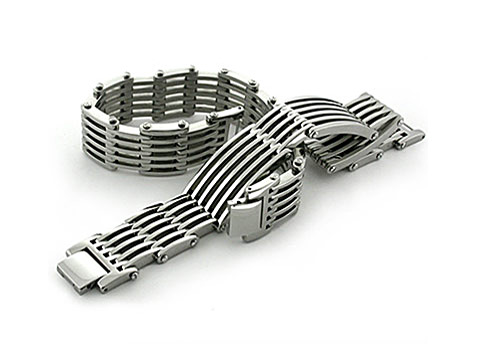 Looking for a special gift for your guy? Whether it's a birthday, anniversary, graduation, or just because he's wonderful, Look no further than our cutting edge line of mens titanium bracelets. These bracelets are sure to provide the special guy in your life with a treasured possession for years to come.
All of our jewelry is made from the highest quality materials, starting with titanium itself. For our mens titanium bracelets, we only use pure Titanium (which is also known as Ti-999) for the links of the bracelet and for the clasp. We want your bracelet to last a lifetime, and by choosing a durable metal, such as Titanium, your piece of jewelry is not only attractive, but resilient.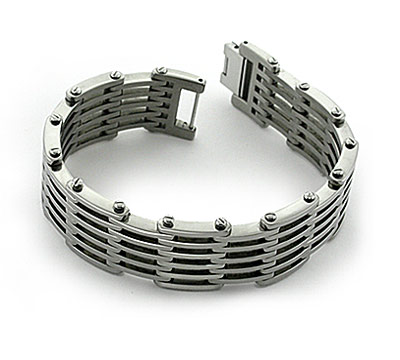 As men are traditionally harder on their jewelry than women, Titanium is an especially excellent choice in men's jewelry due to its heavy-duty nature. As a metal, Titanium is nearly indestructible. It does not bend or become deformed, and any nicks or scratches it incurs through daily wear can easily be buffed out for it to appear new and flawless once again.
While words like heavy-duty and durable have you conjuring up images of a bracelet fit for towing a car, our mens titanium bracelets are actually surprisingly light. Titanium weighs 60 percent less than yellow gold, a detail particularly important in a man's bracelet, as men tend to wear more substantial bracelets with a bulkier appearance.
Titanium possesses a rich silver hue, which can be compared to Platinum, but deeper, making it perfectly suited for men's jewelry. Our mens titanium bracelets are created in a variety of styles and designs with different widths and patterns. Each bracelet can be customized to the perfect length by adding or removing links as necessary.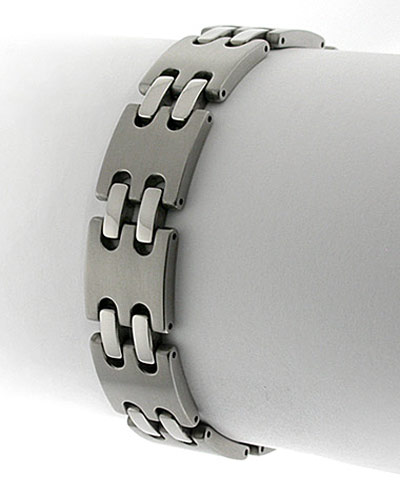 We treat each of our hand-crafted pieces of jewelry as a unique and treasured work of art. Furthermore, we stand behind all of our mens titanium bracelets. All of our Titanium jewelry is hypoallergenic and comes with a Warranty Card and a Certificate of Authenticity. Our Lifetime Warranty safeguards the customer in the event of any manufacturer or material defects, including breakage, deformation, bending or denting. We also guarantee fast production and delivery time, as well as reasonable shipping rates.
Based in Ohio, we started out as a custom-order titanium shop. As the popularity of tungsten and titanium rings has grown, so have we. We have expanded our line of products that we offer in our store and online, including our selection of mens titanium bracelets. We are proud of our work and hope you will join our long list of satisfied customers.