Titanium Mens Engagement Rings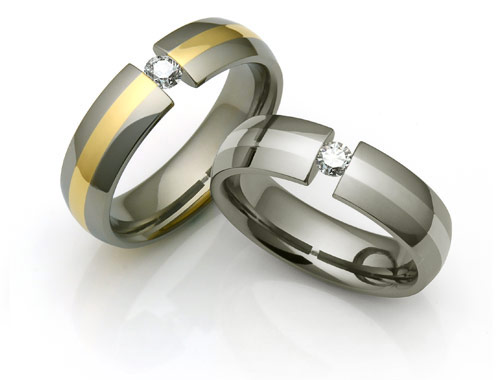 Not just for women anymore, titanium mens engagement rings are a growing trend
In North America, an engagement ring is traditionally presented by a boy to a girl at the time of proposal as a token of his affection and to act as a visual symbol of their promise and commitment to one another. However, in many cultures, engagement rings are worn by both the man and the woman. Furthermore, as same sex marriages have become legal in various states, or couples have elected to have commitment ceremonies, the availability of mens engagement rings has become essential.
With more men opting to wear engagement rings, the popularity of harder, sturdier metals, such as titanium, tungsten, and platinum has also grown. In the past, many men have declined to wear a wedding band, post ceremony, on a daily basis. Men who have jobs that require working with their hands in construction or with machinery have seen their rings become quickly deformed and scarred with nicks.
Mens engagement rings created with titanium or tungsten are not only as enduring as platinum, but are a much more affordable option. Both tungsten and titanium rings are resistant to breaking, bending or scratching. If surface scratches or nicks do occur, they can easily be buffed out to restore the band to a like-new appearance.
At Avant Garde, the expert crafters have been creating custom mens engagement rings from titanium and tungsten for years. The Ohio based company started out as a small, custom order shop, specializing in titanium and tungsten. As these attractive metals began to garner more attention, Avant-Garde expanded their product line and began offering premium jewelry online.
If a man is going to wear an engagement ring or wedding band, they should select something that reflects his personal style, as well as fits his lifestyle. Mens engagement rings can be as simple as a classic, domed band with a smooth, shiny finish or as elaborate as a titanium band with a yellow gold inlay and beveled edges. The possibilities are limited only by the buyer's imagination. Bands can be enhanced with inlays of other metals or adorned with precious gemstones. Finishes can be smooth, satin, or hand hammered. Edges can be rounded, flat, beveled or stepped. Grooves can be added as desired. Mens engagement rings can also be engraved with a special message on the inside of the band.
Avant-Garde is confident you will be completely satisfied with your purchase and offers a 14-Day Money Back Guarantee. Furthermore, all of their products come with a Lifetime Warranty, as well as a Lifetime Refinishing Policy to ensure your ring will last a lifetime and still look like new. Avant-Garde has skilled craftsman who are ready to create striking mens engagement rings precisely to a customers' specifications.