Hammered Titanium Rings
Hammered titanium rings by Avant Garde are a unique and stylish band, perfect for any man. These long-lasting, durable rings combine strength and style in an affordable, tailor-made piece of jewelry.
Titanium is growing in popularity as the ideal material for creating men's jewelry. The extreme durability of titanium is the main reason for the developing trend. Titanium Style creates their impressive rings using three grades of titanium. Choose from aircraft grade titanium (Ti-64), extra hard titanium (Ti-662) or pure titanium (Ti-999). All three of these result in a band which is completely resistant to corrosion, as well as bending or breaking. The rings also withstand rough conditions which would normally cause nicks and scratches on rings made of softer, more traditional metals, such as yellow gold.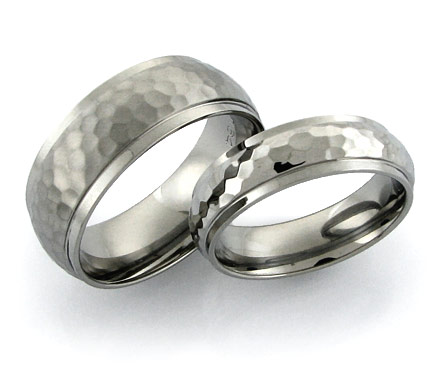 Brushed and polished hammered titanium rings
The tough nature of titanium makes it a surprise to learn how lightweight the metal is. In fact, it weighs in at about a third of the weight of traditional yellow gold.
As the demand for titanium rings has increased, jewelers have begun to design a wider variety of styles. Choose from bands with inlays or jeweled stones, or the fashionable hammered titanium rings.
Inlays are a great way to add a contrast to the silvery color of the titanium band. A different metal is selected from yellow gold, rose gold, white gold, platinum, or silver, and is used to create an inner circle within the titanium ring. Depending on the alternate metal chosen, the result can be a bold statement or a subtle contrast.
Jeweled stones can also be added for those customers looking to add some color in their ring. The chosen stones can be set flush into the band or can be suspended through tension setting. Ti-662 is the recommended grade of titanium for the tension set rings.
Hammered titanium rings offer a multitude of options. An inlay can be added and left smooth, with just the outer edges of titanium hand-hammered, or vice versa. The customer can select smooth or beveled edges, or to add grooves. Even the degree of hammering can be customized, from a small, subtle roughed up texture, to a completely coarse appearance. Many different designs of hammered titanium rings are offered by Avant Garde.
Avant Garde is an Ohio based jewelry designer who started out providing custom-made titanium and tungsten jewelry to other local jewelry stores. As these impressive metals, and their pieces, garnered them a reputation, Avant Garde expanded and began to offer their artistic creations worldwide, via the internet.
For any man looking for a heavy-duty, sophisticated band made to their own specifications, designed to reflect their own personal style and taste, Avant Garde's hand hammered titanium rings are the perfect choice.