Custom Titanium Ring Design
If you are in the market for a custom titanium ring, Titanium Style has talented craftsmen standing by to help you. As a leading provider of titanium and tungsten jewelry, Titanium Style has a complete line of beautiful, quality pieces which are completely customizable.
Titanium jewelry has grown in popularity in recent years, as the word has spread regarding its amazing features. Titanium is one of the most durable natural materials available, commonly used in jet planes, army tanks, and automobiles. That extreme toughness is also why it is ideal for jewelry. Rings made of titanium will resist all bending, breaking and deformation which can occur on a band made of a less resilient metal, such as yellow gold.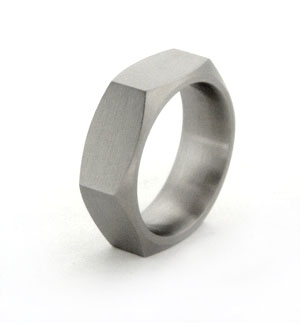 Men's titanium ring designed to look like a hex nut
All of the titanium jewelry created at Titanium Style is made from the highest grades of titanium available. You can choose from Aircraft grade titanium Ti-64, super hard titanium Ti-662, and pure titanium Ti-999. The talented artisans at Titanium Style can help to guide you into choosing the appropriate grade for your custom titanium ring.
The options available for designing a ring which can reflect your own personality and taste are endless. First, consider adding an inlay of another material. An inlay is an inner band, which can be raised or inset, and breaks up the silver color of the titanium. You can choose from yellow gold, rose gold, white gold, platinum, rubber, or ceramic. Opting for a bold choice, such as yellow gold or the black ceramic, creates a bold contrast to the silver of the titanium. If your taste if more sophisticated or understated, a silver or titanium inlay may result in the right look for you.
If you are looking to add some real pizazz to your custom titanium ring, select a gemstone to have set in it. Titanium Style offers a broad selection of quality gemstones and two methods for setting the gemstones into the titanium rings. Flush setting results in the stone sitting flush into the band. For a more unique and dramatic effect, you could opt for tension setting. This method uses the pressure of the metal band itself to suspend the jewel between the two edges. The result is a stone that appears to float magically and since there are no prongs blocking the flow of the light, the jewel will have much greater brilliance and shine.
Other custom options include the addition of grooves, as well as choices of edges and finishes. A personalized message can be engraved into the inside of the custom titanium ring using Titanium Style's special diamond engraver.
Titanium Style takes great pride in all of their hand-crafted jewelry and wants you to be completely satisfied with your custom titanium ring. Your stunning piece will come with a Lifetime Warranty, allowing you to make your purchase with complete confidence.