Black Tungsten Carbide Ring - Contemporary Wedding Band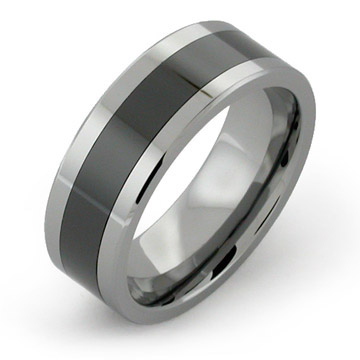 Avant-Garde Titanium has stepped up to offer those with a modern and contemporary taste a vast selection of jewelry to match their style.
When it comes to hard metal jewelry, there is the original silver look or the black - two totally different effects. Choosing one is challenging since they are all so beautiful in their own right. The original tungsten 'color' is a shiny silver effect that is either brushed like a satin finish or smooth and sleek looking as in high gloss appeal.
The black tungsten carbide ring that is actually zirconium ceramic gives off a metallic sense and reminds us of a mysterious ever changing feel. These tungsten rings are definitely for the young at heart and not the individual who wants to please others. This is all about you and what you like goes.
One of the unique qualities of the black tungsten carbide ring and bracelet is that it is one of the toughest ceramics, so its durable as well as beautiful. It also can be buffed back to perfection if you do get a scratch on it. The ring can be engraved and comes in 8mm and 6mm wide and is lightweight. The bracelet is also lightweight, while being hypoallergenic and the links can be removed if proven too big for the client. There is a fold over clasp that makes it easy to get on and off.
There is also the Flat Tungsten Carbide & Ceramic Ring with rolled edges that is the black tungsten carbide ring that has the center made of the tungsten carbide for a two toned effect with a slightly raised center. This fascinating ring is great for any guy looking for something updated with a manly look. Ladies engrave this one for sure! Because it has rounded edges for the comfort fit and is lightweight, they will never take it off.
Our policy to buy is exceptional. As you order your purchase, we send a ring sizer if needed for no charge. If you decide to engrave, we send the ring to ensure a correct fit, then we will engrave it and send it to you for no additional charge. We care about our clients, so we make your shopping experience a pleasant one. We offer several options from credit card purchase to money order. View our page for payment when you are ready to order. We do offer a 14 day money back guarantee, so our clients are ensured of complete customer care. And for the holidays they have extended the guarantee so you can start your shopping a bit earlier to reduce your stress! From a shiny titanium pendant to the black tungsten carbide ring, we have a vast array of jewelry just for you!