Are you searching for a fresh, unique way to express your style through jewelry? Have you ever considered stackable titanium rings? If so, you're in the right place!
So, pile them on — mix and match them with stones and textures to put a unique spin on your everyday style. This modern look becomes a little more "you" with each addition. Given their versatility, we've summarized the best tips and must-haves to help you build your ring stack.
What Are Stackable Rings?
Stackable rings are precisely what they sound like—rings, often thin, that are designed to be worn together on the same finger.
Each ring can differ, boasting unique designs, embellishments, and materials. The beauty of this trend lies in its flexibility — you can stack as many or as few rings as you like to create your desired look. That is precisely what stackable rings bring to the table. Now, what makes stackable Titanium rings special? That's what we are here to find out!
The Magic Number of Titanium Rings
Stacking rings isn't just about wearing multiple rings; it's about creating a statement, telling a story, and expressing your personality. But how many rings do you stack, and on which fingers?
How Many Rings Do You Stack?
While there's no hard and fast rule, the most common approach is to stack 2 to 5 rings on a single finger. Too many rings might create an overwhelming look, while too few may not achieve the desired impact.
When deciding how many rings to stack on one finger, consider the width and height of each ring. Ideally, you should have one finger with a stack higher than the other fingers, creating a triangle effect. However, the exact size of a stack depends on how many rings you can stack without creating that uncomfortable "muffin top" effect.
Which Fingers to Stack Your Rings On?
Experiment with an odd number of fingers to wear your rings on to achieve just the right amount of balance. For example, consider wearing rings on only three or five of your fingers. 
Typically, the thumb, middle, and ring fingers are the best for stacking rings due to their visibility. You can quickly achieve the dramatic effect of a ring stack without loading up every finger. Consider leaving at least one finger bare for a balanced look.
Remember, the beauty of stackable rings lies in personalization; they reflect your unique style and personality. So, feel free to experiment with different combinations until you find the perfect stack for you.
Does Stacking Rings Damage Them?
But the question arises – does stacking rings damage them? With softer metals, this could indeed be an issue. The biggest problem is wearing different grades of metals. 
Suppose you stack a Commercially Pure Titanium Ring (Ti-999) with an Extra-Hard Titanium Ring (Ti-6/6/2). The Ti-999 might get scratched in that case since it is the softest grade of Titanium. 
Considerations Before Buying Titanium Stackable Rings
The beauty of stackable rings lies in the endless possibilities of mix and match. Play with different metals, gemstones, and textures to create a stack that's uniquely you. 
However, when it comes to purchasing stackable titanium rings, there are some considerations to keep in mind: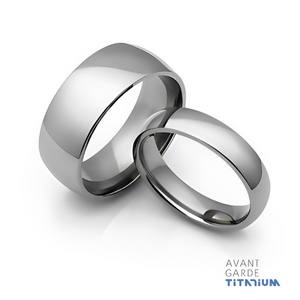 We're championing titanium here for a good reason. Titanium is an excellent choice for its durability, lightweight feel, and unique grayish-silver color that stands out among traditional metals.
Titanium boasts the highest strength-to-weight ratio of any other metal. With a tensile strength of up to 150,000 psi and a Brinell hardness value of 330, it is 45% lighter than steel. Not only is Titanium one of the most robust and scratch-resistant metals available, but it's also highly resistant to corrosion, tarnishing, and other forms of wear and tear, making it perfect for daily wear. And when you have the flexibility of stacking them, the possibilities for personalization are endless!
Shop Titanium Rings By clicking the link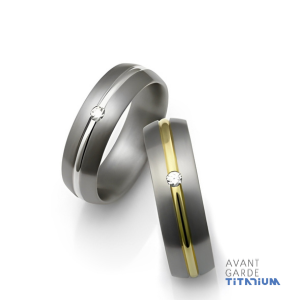 Being intentional about mixing different metals becomes a statement on its own. Metal inlays add a unique touch of color, texture, and depth to the solid look of Titanium, transforming the bold, hard metal into a statement piece. Whether it's a subtle touch of rose gold or a contrasting warm gold, titanium ring bands with a precious inlay add an extra layer of dimension.
At Avant-Garde Titanium, we offer precious metal inlays in white gold, rose gold, traditional yellow gold, and platinum for a unique accent unlike any other.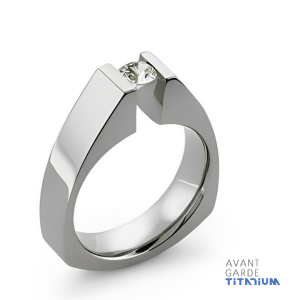 Consider incorporating sapphires, rubies, or diamonds into your stack of titanium rings. Stackable rings with gemstones add a splash of color and personality. Whether it's your birthstone, favorite color, or a gem with a special meaning, the addition of gemstones can elevate your stackable ring set. And with titanium rings, you can add a little flair with a tension setting.
Unlike traditional metals that use prongs or other mountings to hold precious stones, titanium rings can be tension set. A tension-set ring uses sheer pressure to maintain a gemstone between the opening. The tension setting allows light to pass through the stone unimpeded, resulting in a natural brilliance.
Shop Stone Set Titanium Rings By clicking the link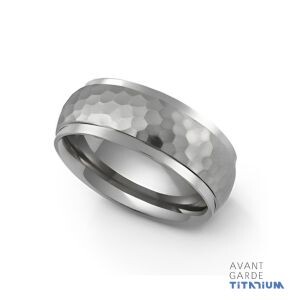 Stackable titanium rings come in a variety of textures. You could opt for a smooth, polished finish or choose a brushed or hammered texture for an edgier look. Why not add some personal expression with a ring finish? Mixing textures can also add depth and interest to your stackable ring collection.
The most commonly chosen finishes at Avant-Garde Titanium are polished, brushed, sandblasted, and hammered.
Shop Hammered Titanium Rings By clicking the link
How to Wear Your Stack Rings: Position is Key!
The fun part starts here – positioning your stackable rings! Here are a few suggestions to kickstart your creativity:
The Base

: Start with a thicker ring at the bottom of the stack to create a solid base.

The Accents:

These are typically thinner rings that add an extra pop of color or sparkle. Feel free to mix metals or incorporate rings with gemstones for added interest.

The Wide Ring

: Placed in the middle of the stack, this acts as the main attraction, so choose something that stands out!

The Horizontal

: This ring has horizontal detailing to break up the stack and draw the eye.

The Sideline

: These rings are worn on other fingers to compliment the stacked finger and can be a single ring or another stack.
Shop Avant-Garde Titanium for Your Titanium Stackable Rings
Avant-Garde Titanium has consistently been a leader in the titanium jewelry market. Known for our superior craftsmanship, we offer a wide variety of beautifully designed stackable rings to suit every taste and style.
Titanium stackable rings offer a fresh, unique way to express your style and enhance your jewelry collection. Whether you want to add a simple band or a ring adorned with a radiant gemstone, we have it all. And with our variety, you can mix and match to your heart's content, creating a look that truly represents you. So why wait? Embark on your stacking journey with Avant-Garde Titanium today!

Shop now! By clicking the link
1-513-520-0527