Summer is here and it's time to get fancy. Colors are becoming more vibrant and design more intricate. Styles and trends that are typically more conservative during the winter are set free to be more extravagant without apologizing for it. Summer should be your excuse to be excessive.
Jewelry is no exception to this rule. Classic costume jewelry is a fashion trend that has returned. Pops of colored gemstones are leaving their mark in each and every accessory. Blues, purples and green shades will be taking fashion by storm this summer. It seems the cool color palette is emerging and titanium jewelry is a perfect example of this. Titanium rings and titanium pendants offer contemporary color tones for a refreshing and rejuvenating pattern. They are a polished canvas that will complement
Titanium Metals Provide Chic Jewelry Options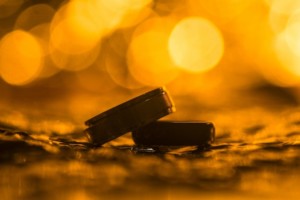 There are a few skeptics who avoid titanium, silver, nickel or other polished metals for fear of being too mundane and often turn to gold for the elegant, more traditional look. Titanium metals are actually a gorgeous complement to these colored gems. If you are looking for more modern accessories and like a sleek style, titanium bracelets, rings or even a quality titanium chain, give your jewelry something extra. Our stone set titanium rings combine the modern and classy look with colored gemstones to give your jewelry summer flair. Emeralds, rubies or even sapphires will be especially brilliant against a glossy band or chain. Titanium rings and chains provide the durability of steel, with the elegance of silver. Add a gemstone to your titanium pendant or your titanium ring and make a colorful statement.
Precious Metals Inlay for Titanium Rings
For a simplistic, yet elegant choice in your ring collection, spruce up your titanium rings and bands. Consider a gold, white gold or even platinum inlay pattern for your titanium ring. These are perfect for men's wedding bands or even a class ring. The inlay precious metal will complement your titanium ring and give it a fashionable and contemporary scheme. Consider an exclusive, two-tone alternative ring to the traditional men's wedding ring or anniversary ring. Your loved ones will thank you when they see a wedding band design that is not only chic but refreshingly unique.
Titanium Jewelry Trends are Progressive, Yet Classic
Though titanium metal has been around for ages, the popularity of jewelry is just beginning to climb. It is a dynamic twist on a classic emblem. Not only does titanium jewelry show your loved ones you care, it shows them you want your gifts to be as rare and special as they are. Venture into new territory with titanium rings and pendants. Give them a gift that is just as stunning, as it is meaningful to them.
Even consider your own titanium design for a truly original piece. Titanium rings can come in a traditional smooth band or a textured band. If you prefer the look of hammered titanium rings, check out these patterns for a fresh take on titanium jewelry. The dimpled metal brings a unique touch to the traditional titanium bands and gives it a whole new dimension. The times may have changed but fashionable trends are timeless. Titanium jewelry is making its mark in the fashion industry and is sure to be an ornate choice. With a variety of shapes and color schemes, your options are practically endless.
Innovative Black Jewelry
Black is not only a refined choice, it never goes out of style. For a classy and refined choice, consider a black tungsten ring. Tungsten wedding bands are a modern twist on a traditional style. If you are looking for wedding rings for men, tungsten rings have a wide variety of textures and patterns. Beveled sides, ceramic inserts and pipe-cut forms are just a few examples of how to make tungsten rings really pop. Even micro-hammered adds an additional dimension to your tungsten or titanium ring. For a vintage feel, choose a sandblasted finish and get a custom titanium ring unlike any other. This will add some elegance to your titanium rings while giving them some character.
Silver and Black Keep it Cutting Edge
If you are looking for high-quality titanium jewelry, Avant-Garde Titanium has a full selection of titanium rings, pendants, bracelets and other jewelry types to keep you looking chic. Order a custom-made titanium ring with any of our fashionable accents for a piece of jewelry that is unique as it is fancy. Impress your friends and family alike as you show off your elaborate tastes. Whether you are searching for engagement bands, men's wedding rings or even black wedding rings, our titanium pieces will enhance any summer outfit. No jewelry collection would be complete without a touch of titanium. These timeless colors and shades will always be appealing fashion statements.