Nothing showcases your love more than a ring that is as unique as the bond that it represents. Custom titanium rings allow their ring to reflect how special they truly are to you. Unlike other metals, there are numerous ways you can personalize both women's and men's titanium rings to make their jewelry stand out from the crowd.
At Avant-Garde Titanium, we take pride in our creative side and encourage our customers to experiment and make a one-of-a-kind custom titanium ring masterpiece. Whether you are looking to add stone sets, texture, or a pop of color with a precious metal inlay, we are here to help you achieve your vision. Explore the different ways you can make a titanium ring as unique as your love with Avant-Gard Titanium.
1. Ring Band Shape
While rings get recognition, bands are often overshadowed by jewels or texture. However, there's plenty of variety to be had with the band design, including the shape they take on. At Avant-Garde Titanium, we have customized a myriad of ring band shapes you can choose from, as well as create your own. Our unique band shapes include circular bands, knife design, semisquare, and car engine piston.
Circular bands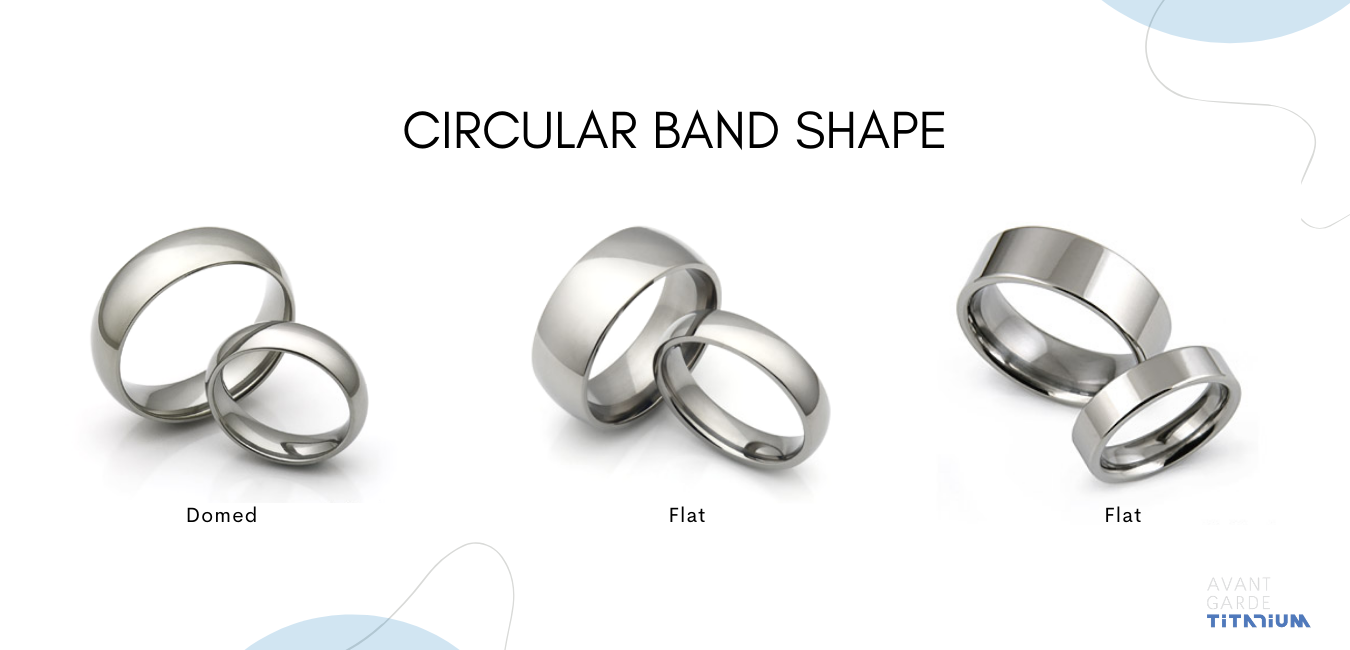 The most common and traditional band is a circle. A comfortable fit for the finger and serves as a base for other band shapes. Circular bands are a romantic gesture representing endless and constant love. The circular band family has several custom variations, including domed, flat, and the famous infinity ring.
Domed
Domed bands are a classic and traditional band, with the cross-section of this band looking similar to that of the letter D. The rounded shape of a domed ring reflects from every angle. Domed bands feature comfortable edges both inside and out for the ultimate comfort for everyday wear. Easily one of the more famous band shapes.
Flat
Flat or "pipe-cut" bands provide a very simple but slightly more contemporary or modern look. The inside of the band remains rounded for a complete comfort fit for everyday wear. However, the outside of the ring features a unique approach with a flat top with slightly softened edges.
Infinity Ring
Get an infinity ring if you want a ring to symbolize your enteral love for your partner. The infinity ring has long been an expression of a lifelong commitment and promise in a romantic relationship. The Avant-Gard Titanium ring is a double loop or figure 8 infinity design. Give your partner a unique titanium ring that will last an infinity.
Knife Edge Design
The knife-edge band slopes up from each edge, meeting at the high line at the middle of the band, splitting the band into two parts. This style band is used both in men's and women's rings for its low-key but contrasting shape providing its wearer with an air of elegance and trendiness.
Semisquare Top
This ring band is set apart from the rest due to its semisquare top. The ring exterior is circular on 3/4th of the ring while the front is square off. The center of the band is twice as wide as the sides, giving a square-shaped appearance with the comfort of a circular band.
European-Style Square Shape
The European-style square band is set apart due to its unique flat exterior or square shape. The inner-circle remains perfectly round for a similar comfort of regular rings. European style square bands are a perfect blend of style and sophisticated quality craftmanship, all within a single glance.
Car Engine Piston
Do you have a car lover? The car engine piston band is geared for a flat, comfortable titanium ring resembling an internal combustion engine piston. This ring's interior is circular for all-day comfort with a one-of-a-kind design. Three deep and thin grooves offset one side of the ring to mirror the compression ring, middle ring, and oil scraper ring. Lastly, two flat divots are positioned across each other, making a perfect spot for those looking to add a stone set.
2. Finish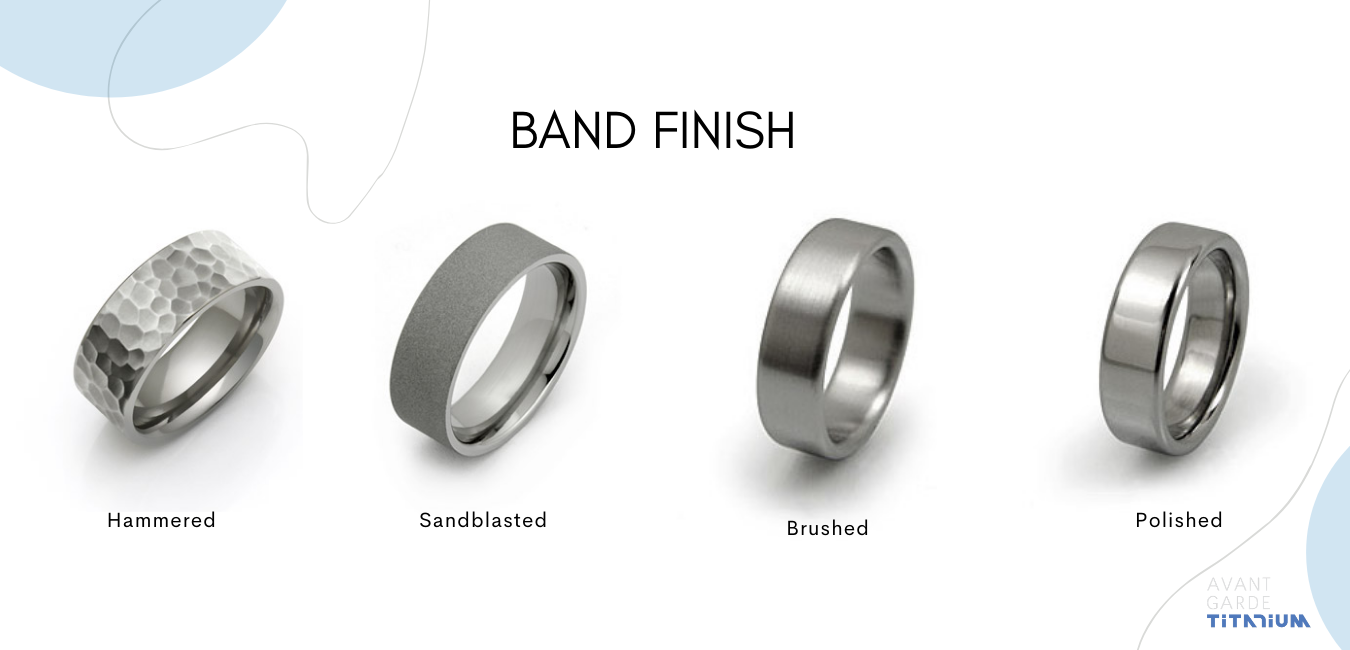 One of the many ways to give a ring a unique flare and appearance is different finishes. So why not add some personal expression with a ring finish? The most common finished at Avant-Gard Titanium are polished, brushed, sandblasted, and hammered.
Polished
The most commonly seen wedding ring finish is polished. This type of finish is lustrous and reflective, allowing you to see your reflection. The polish finish is an excellent option for those who like noticeable rings. However, the biggest drawback to polished rings is that scratches are very prominent on the reflective surface. At Avant-Gard Titanium, though, we include a repolishing or refinishing service available up to twice a year for as long as you own your ring if it does become scratched.
Brushed
A brushed finish is very similar to a satin finish with a matte-like appearance. This finish, however, has a texture to it made with a wire brush. Brushed finishes are trendy because they do not readily show scuffs or scratches on the course surface. This ring finish is best for people looking for less maintenance while still retaining an elegant yet rustic appearance.
Sandblasted
Sandblasting has a very noticeable coarse finish achieved by blasting the ring with a large quantity of fine-grain sand to create an uneven appearance and give it a slightly grainy texture. As a result, sandblasted rings are a perfect fit for anyone interested in a more unique and textured finish.
Hammered
This type of finish is quite famous for those who prefer an eye-catching non-reflective finish. Hammered finishes have small bumps and dents on the surface of the ring as though a hammer was used to pound each indentation allowing for every ring to be individualized. Typically, this finish has a hammered texture and a satin finish applied to remove any reflective surface.
3. Precious Metal Inlays

If you're still looking for that little extra to brighten your ring and elevate it to the next level, we recommend a decorative precious metal inlay. Metal Inlays add a unique touch of color, texture, and depth to the solid look of titanium, transforming bold, hard metal into a statement piece.
Whether it's a subtle touch of rose gold or a bold hammered texture, titanium ring bands with a precious inlay add dimension and tell your unique story as a couple. At Avant-Garde Titanium, we offer precious metal inlays in white gold, rose gold, traditional yellow gold, and platinum inlays for a unique accent that will be like no other ring you'll see.
4. Stone Set
Add a sapphire, ruby, or diamond for a perfect addition to any custom-made titanium ring. Gemstones are an ideal addition to any custom ring for your significant other. Not only will a diamond, sapphire, or ruby add an extra sparkling touch, but it will let your partner know just how much they mean to you. Check out our blog about gemstones to help you show the depths of your feelings for someone special. If you're unsure what stone to use for your stone set titanium rings, you can never go wrong with a birthstone.
5. Tension Setting
Unlike traditional metals that use prongs or other mountings to hold precious stones, titanium rings can be tension set. A tension set ring uses sheer pressure to maintain a gemstone between the opening. The gem will rest within the groves and appear as though it is magically suspended on your finger.
Unfortunately, metals such as gold and platinum are pretty soft in tensile strength and weaken over time. Therefore, if you're set on a tension set ring to hold your precious gem in place, titanium rings are the way to go.
6. Engraving
Potentially the most intimate aspect of a custom ring is the engraving. Be it the commemoration of a special event like a marriage or a phrase shared between friends or family. Engravings provide a unique way to immortalize moments that are important to you. Engraving can be very intimate since most engravings are featured on the inside of the ring and usually are only for the wearer. Engraved wedding bands can be a great way to make your partner feel extra loved and cared for each day.
Closing
Custom titanium rings are a great way to showcase your love's uniqueness. At Avant-Garde Titanium, we encourage you to make your one-of-a-kind titanium ring with our customizable options such as stone sets, texture, or a pop of color with a precious metal inlay. If you cannot find just what you envision in our large selection of titanium rings, contact us directly, and we can help craft a ring as unique as you are.
Shop now! By clicking the link
1-513-520-0527
sales@titaniumstyle.com