It's the time of year when wedding season hits us full force. Whether you're a wedding coordinator or planning your own, life may have gotten a whole lot crazier for you. You may be busy searching for venues, putting together centerpieces or going to food tastings every week. Whatever your schedule may be, it's no secret that planning your wedding can be a full-time job. With the stress of organizing and coordinating, it is perfectly normal to forget things, especially during the busy season. During this time, don't neglect or forget about the search for the perfect ring. If you are a couple that typically avoids tradition and likes to stray from the norm, consider a titanium ring to show your special someone some love. Titanium Style would love to make this occasion not only memorable but a pain-free experience as well.
We have stylish men's wedding rings and custom titanium bands to show the man in your life how much he means. Not only do titanium wedding bands last, they have a contemporary and sleek style to them. Polished metals such as titanium rings stand the test of time. Being one of the hardest metals, titanium stands up to your rugged lifestyle and can resist damage, unlike the silver or gold competitors. These bands can show signs of wear quickly.
Titanium rings are extremely versatile in that their design schemes complement a wide variety of precious metals and gemstones. This offers an additional level of elegance to your ring and also makes it truly unique. Whether you are looking for wedding rings for women or men's titanium rings, there are numerous styles, bevels and inlays to help design your own custom wedding bands. Our luxurious bands will add a sophisticated touch to any wedding band.
Textures and Grooves in Men's Wedding Rings
Titanium bands offer an extremely modern design that is appealing to all tastes. Some have stated that the silver-metallic color of the band is too plain and the appearance is lacking. Titanium rings are anything but mundane. If you are browsing men's wedding rings and want to make a statement with your wedding band, try adding a unique finish or groove to your ring. The sandblasted finish gives each titanium ring a chic, textured finish. It almost adds a depth to the polished titanium, making it a darker color and a coarse appearance.
For a change in traditional titanium color scheme, consider a gold or a platinum inlay ring. These titanium rings pair with a precious metal for an elegant and fashionable upgrade. The two-tone appearance is sure to make any wedding ring for men or women, a stylish choice. Choose from white gold, rose gold or a platinum complement for your titanium wedding band. Browse our assortment of gemstones for a touch of class in your titanium wedding band. Sapphires, black diamonds, rubies or traditional diamonds will add an elegant luster to your titanium wedding band. Make your titanium wedding band an unforgettable one.
A groove or bevel in the side of your ring can also enhance the contemporary look in your titanium wedding band. Laser cutting a design into the ring can also add some flair to make your titanium ring a unique fashion statement. Men's titanium wedding bands can be as inventive or elaborate as you prefer. The only limitations are your own imagination. Not only does a textured surface provide an eye-catching element to your titanium ring, you can also make it sentimental. Add an engraved message to the inside of your ring to truly make it a sacred gift. This is the perfect element to make any men's wedding ring meaningful.
Customize Your Own Titanium Rings for Men
Wedding bands are probably one of the most important investments you will make while you are planning your big day. If you are looking for a one-of-a-kind wedding band, consider designing your own men's wedding ring. We will even send you a sizing ring set if you need help with fitting your wedding bands. Check out this printable ring sizing chart as a reference. Also, we can confirm your ring size for your custom titanium ring order as well. Our ring size chart will help you order the perfect fitted titanium wedding band and avoid a loose-fitting one.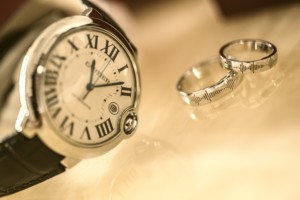 The options are never-ending when it comes to purchasing men's titanium rings. Titanium Style gives you the freedom to make your ring a reflection of the special man in your life. For custom designs and cuts, check out our cross rings or princess cut rings. These cuts are always-in-style no matter what fads are in season and are always extremely popular in the industry. Additionally, if there is a design you don't see on our site, contact us and we can help make your titanium wedding ring ideas a reality. Make your men's wedding ring as extraordinary and creative as you desire and let your special someone know they are loved.