Your relationship is unique, and you want a custom engagement ring that represents that.
Who doesn't?
However, custom engagement rings can be pricey.
With student loans and other expenses that still need to be paid off, the last thing you want to do is start your new lives together in even more debt.
Follow this guide, and you'll learn how to make smart economic decisions that save you money on your custom engagement ring.
What to Do Before You Purchase a Custom Engagement Ring
I know you're excited about designing your ring, but before you rush off to the jewelers, you need to have these in order first.
1. Don't Wait! Get Started Early
Building a custom engagement ring from concept to creation can take several months at the very least, even more so if you decided to alter the design halfway through.
A rushed ring is a poor investment and that money could have been spent better elsewhere.
Schedule the meeting with your jeweler several months in advance to give yourself plenty of time and enjoy the process.
2. Set a Budget and Be Smart About It
The next step in the process is defining your budget.
Forget the two month's salary rule.
Don't let decades of the diamond industry's cultural marketing dictate what you should spend.
Especially since diamonds aren't even that rare, it's a myth.
Base your budget off of what you can afford before you go look at rings.
That way, you won't be tempted to build a budget around a ring you like.
Like we stated earlier, with increasing financial debts becoming more and more common, the last thing you'd want to do is bring in even more debt into your new life and place that cost on the person you love the most.
Don't forget, there's still a wedding that needs to be paid for.
Bonus Tip: While taking out a loan or using credit cards to fund your ring is an option, it's not the smartest, as high interest rates can end up being far costlier in the long-run.
3. Research for Your Custom Engagement Ring
Now that you have your budget, there are several things you need to research to get the best understanding of your options.
What You Need to Know About Vendors
You can save a lot of money just by going to the right vendor. Here's what you need to know before making a choice.
Compare Prices from Different Vendors
Your best bet for buying your custom engagement ring is through traditional brick-and-mortar stores and online stores.
Research them both and weight them against each other to find the one that's the best fit for you.
While brand name jewelers are better known, a local, reputable jeweler, can often offer you a more affordable price while providing better quality for your custom design.
The same goes for online Jewelers, who usually have even better deals.
Online stores are safe to buy from, but never buy a stone you haven't met in person.
Know the Warranty & Return Policy
Custom or engraved engagement rings don't always have a return policy, which is something you'll want to know before you start designing a ring.
If there are return or exchange policies be mindful of them when choosing a proposal date.
The last thing you want is to find out your ring doesn't fit after the end date, or worse, be left with the ring if they say no.
Bonus Tip: All titanium, tungsten carbide and ceramic jewelry, purchased from Avant-Garde Jewelry inc. are covered by a lifetime repair or replacement gaurentee for any defect, such as, but not limited to breakage, noticeable deformation, bending and denting that might occur with normal wear.
What You Need to Know About Your Partner
Here's the Truth.
The easiest way to create a custom engagement ring that you and your partner will love is to build it together.
With both of you involved you can build the ring exactly to your liking, and won't spend more money making alterations and resizing.
However, if you want the ring to be a surprise, here's what you can do to find references for a design that works for both of you.
Bring in Their Favorite Rings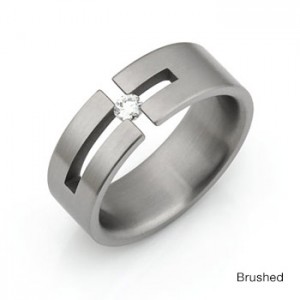 The best references for your custom engagement ring are your partner's favorite existing rings.
These will help determine the correct size and style of your ring.
Bring a few of their favorites, and your jeweler can use them to help guide your design.
Ask Their Friends and Family
You might not know it, but there's a chance your partner has discussed engagement rings with their family and friends.
Asking these people if they have any ideas can prove a valuable resource (as long as they won't spoil the surprise).
Check Their Best Kept Secret [Pinterest]
Do they have a Pinterest?
Do they have a board for Jewelry, specifically for rings?
Then congratulations!
You've landed on a goldmine (Diamond mine?) of engagement ring references, and a valuable resource for finding gifts for your partner fall shapes and sizes.
Bring all these elements together and work with your jeweler to fashion your custom design.
Bonus Tip: If you're not sure they'll like your design; you can make the ring a partial surprise by building a setting with a temporary ring. This gives you a diamond to propose with, but the option to build the rest of the ring together.
What You Need to Know About The Four C's
The four C's (Carat, Cut, Color, and Clarity) are the standards by which diamonds are priced.
The more perfect the diamond is in each of these categories, the greater the cost.
When designing your custom engagement ring, you'll have to decide which criteria you care the most about and how you want to distribute your budget (More on that later).
How to Save Money Designing Your Engagement Ring
Now that you've found a jeweler you like and you've collected your ring references, you're ready to design your custom engagement ring.
Keep these in mind when trying to build around your budget.
Budgeting Around The Diamond
Carat
When it comes to Carat, the best way to save money is to buy just under whole and half numbers.
Buying a 1.8-carat diamond will be much more affordable than a full 2 Carats, and no one but the jeweler will know the difference.
Cut
While the cut can equal up to 50% of the price, taking shortcuts here will mean the diamond is more susceptible to dirt and will lose some of its shine as a result.
However, you can save money through specific diamond shapes.
For example, an emerald cut is much cheaper than the traditional cut.
Another economic strategy is to avoid popular shapes.
Round-cut engagement rings are super popular right now, and therefore super expensive.
Color
Diamonds have a color scale that represents how much yellow color they show, with D (colorless) being the lowest, and Z showing the most color.
The same philosophy for the Carat applies here as well.
If you're considering an I, try a J. The difference will be unnoticeable, especially with a contrasting band.
Bonus Tip: Why should a scale dictate your ring? Go for a colored diamond instead and save money without sacrificing elegance and beauty.
Clarity
As long as the ring is eye clean, a diamond with slightly lower clarity is more affordable and completely flawless to the untrained eye. (Starting to get the idea here?)
Furthermore, buying a diamond with a micro-blemish or two will continue to lower the cost, and with the right setting, you can hide them completely.
Budgeting Around the Band
Choose A Less Expensive Metal
A simple way to save money on a custom engagement is to make the band out of a more affordable metal.
By avoiding platinum, you're already heading in the right direction.
Gold is the most popular option for a more affordable engagement ring, but by choosing a comparably priced metal like titanium, you stand to gain more than reduced costs.
Unlike gold, titanium is extremely durable, scratch-resistant, lightweight, allergen-free, and available in a variety of styles and colors.
Bonus Tip: Titanium's extreme durability makes it difficult to resize. Know your ring size cold or build a setting that can easily swap the diamond to a different ring when using this material.
Saving On The Setting with:
A Simple Design
Going for a simple prong setting will be the most cost-effective, as less material means lower cost.
Not only will a simple setting be more affordable, but it's also easier to clean, and prominently shows off the diamond.
A Halo or Mosaic Design
Another way to save money on your custom engagement ring without sacrificing brilliance is to surround a smaller diamond with pavé (tiny accent diamonds) in a halo or mosaic setting.
This gives the appearance of a larger diamond without actually paying for one.
However, adding too many smaller stones to your ring can end up costing more than a single large diamond. (So don't get carried away.)
Save With a Diamond Alternative
Lab-Grown Diamonds
While diamonds may be bright and clean, the diamond industry often isn't.
Many natural diamonds are mined using processes that exploit workers, and despite regulations, even "conflict-free" diamonds can still get away with some questionable practices.
If you're struggling to justify a diamond for ethical reasons, then a lab-grown diamond might be a good fit for you.
Indistinguishable from their natural cousins, lab diamonds can cost up to 50% less and are guilt-free.
Other Precious Stones
Who says you even need a diamond?
You can build a beautiful engagement ring out of sapphires, emeralds, pearls, and much more, for a more affordable cost.
What Stone?
While we're at it, forget the rock.
Create a stone-less engagement ring and invest in a gorgeous band design, saving money without sacrificing beauty.
Things to Keep in Mind
You Control The Customization
It's your money being spent on the engagement ring, so you decide where it goes.
If you're more invested in the diamond then in the band, delegate more of the budget to that part of the ring (and vice versa.)
Buying Rings and Bands Together
Ideally, your engagement ring and wedding bands will match.
Fortunately, jewelers often have deals for buying rings and bands together.
If the wedding is a no-brainer, and you're looking to save money in the long-run, then buying these rings together can be an incredible value.
Make Sure Your Vender is CIA or AGS Certified
To ensure that you're getting the best value, make sure that your diamond is graded from an independent lab.
Each lab grades slightly differently but GIA and AGS are regarded as the most consistent by retailers.
Always review the diamond with your own eyes, and if you're still unsure about the price, talk to a diamond expert before purchasing.
What to Do After Purchasing Your Ring
So, you've finally purchased your custom engagement ring.
Congratulations!
There are just two more things you need to do.
Insure Your Custom Engagement Ring
After purchasing the ring, get it insured, and get everything in writing.
Presumably, you just spend a lot of money on that ring, and the last thing you'd want is for something to happen to it.
Strive for a 100%, money-back guarantee, ideally with at least 30 days from when your ring is delivered.
Keep Up On Maintenance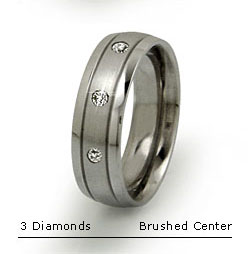 If your jeweler offers a warranty for your ring, check the terms as they often require ring maintenance.
If you don't keep up with the terms of your warranty, it could be voided.
If a warranty isn't standard at the jeweler you choose, and you're concerned about damage to the ring, you may consider purchasing a protection plan.
Common upkeep like prong replacements may be covered, while loss or theft generally is not.
Now that everything is in order, and you've got your custom engagement, if you haven't already, all that's left to do is pop the question.
After how smart and thoughtful you've been saving on a custom engagement ring, how can they say no?
Best of luck to you both!
---
We Want to Hear from You!
We really hope you enjoyed our guide to saving money on your custom engagement ring.
Now we'd like to hear from you:
Which step in the process has been the most helpful in your experience?
How did you save money on your engagement ring?
Are there any money-saving tips we missed?
Either way, let us know by leaving a comment below right now.

Shop now! By clicking the link
1-513-520-0527
sales@titaniumstyle.com