Have you ever considered the elegance of black in jewelry? Traditional metals like gold and silver might first come to mind when you think of rings. But what if we told you there's a unique alternative that promises style and durability? That's right – we're talking about black ceramic rings, specifically Zirconium. But what exactly is Zirconium, and why should you consider it for your wedding band?

What Is Zirconium?
Before diving deep, let's clear up any confusion. Zirconium is a naturally occurring element extracted from other minerals, such as zircon from chlorine. When exposed to extreme heat and pressure, it forms a rich black, ceramic-like oxide layer. This results in a ring that isn't just black on the surface but through and through. That means it would still be black underneath if it ever got scratched. Cool, right?
But why should you consider a Zirconium ring instead of other black metals? There are plenty of reasons!

Why Buy a Black Ceramic Ring?
You might find black tungsten and ceramic rings among the top contenders when shopping for black rings. But why should you consider Zirconium rings? Let's look at the perks:
1. Budget-friendly
Who said you have to empty your bank account to purchase a unique and lasting ring? Zirconium rings offer the same, if not superior, elegance and durability as other precious metals but at a fraction of the cost. You can expect excellent Zirconium rings and wedding bands in the lower 3-digit price range, such as this black zirconium ring with beveled sides. It's the perfect choice for budget-conscious consumers who don't want to compromise style and quality.
2. Durability and Hardness
Don't let the stylish appearance fool you – these black rings are incredibly durable. A zirconia-based ceramic ring has one of the highest durabilities available today, ranking a nine on the Mohs hardness scale. Only diamond and corundum abrasives can scratch. These rings are superb for those with active lifestyles, as they can withstand scratches and dents.
3. Corrosion Resistant
We all want our jewelry to stand the test of time, and Zirconium is designed to last. Zirconium is highly resistant to corrosion and scratches, withstanding daily wear and tear. The dark color won't fade or tarnish over time because the black is not a coating but the metal's true color. This ensures your ring maintains its shine and beauty for years to come.
4. Lightweight
Despite their robustness, Zirconium rings are surprisingly lightweight. In fact, black Zirconium is only about 1/4 the weight of pure steel, yet considerably stronger. This unique blend of comfort and resilience makes these rings ideal for constant wear, whether typing at a desk or adventuring in the great outdoors.
5. Hypoallergenic
Zirconium is a safe bet if you have sensitive skin or are allergic to certain metals. Most black rings are not natural and often contain alloys that could irritate your skin. So, as the black plating wears down or chips, the metal will be exposed, causing discomfort.
If you want a black ring and peace of mind, a black ceramic ring is a great alternative. The jewelry-grade ceramic used in Avant-Garde's black ceramic rings is 100% cobalt-free and hypoallergenic, ensuring no discomfort or allergic reactions. This makes it perfect for anyone, regardless of their skin type.
6. Easy Maintenance
Unlike some other types of jewelry, Zirconium rings require minimal maintenance. Their inherent corrosion resistance and durability make them easy to care for, even with regular wear.
They can be kept clean with a piece of cloth and some warm, soapy water. Plus, they require no replating or polishing as their dark color is permanent.

Resizing Black Ceramic Rings
While zirconium rings offer many advantages, they cannot be resized due to their hardness. Therefore, getting the correct size at the time of purchase is critical. At Avant-Garde Titanium, we're committed to helping you get the perfect fit and can guide you through the sizing process. 
For more information on ring sizing, check out our complimentary Perfect Fit Every Time™ ring sizing set. 

Why Not Black Titanium Wedding Rings?
People often wonder about the difference between Zirconium ceramic rings and black titanium or tungsten counterparts. One of the most evident shortcomings of black titanium is that the color is not solid. This occurs because black titanium rings are created from a specific type of titanium that, when exposed to heat, forms a thin layer of black deposit on its surface. Over time, however, this finish will inevitably be scratched off, leaving visible white marks on the black surface. While durable and somewhat resistant to scratches, the deposit cannot withstand the test of time indefinitely.
Furthermore, neither black titanium nor tungsten can be refinished, making black ceramic the ideal alternative. It is clear why we only choose to use the premium material zirconium black ceramic for our modern, chic contemporary collection.

Avant-Garde Titanium's Favorite Black Ceramic Rings
At Avant-Garde Titanium, we offer an exquisite collection of black ceramic rings. From simple black bands to ornate tungsten inlays, we've got a style to suit everyone. So whatever type of black ring you're looking for, we have it in stock or can create it for you. And if solid black isn't the look you're going for, check out our line of tungsten rings inlaid with ceramic, which offers yet another stunning look.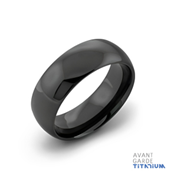 A modern twist on a simple yet radiant design, this Domed Black Zirconium Ceramic Ring is a classic half-round wedding ring with comfortable fit edges on both sides, providing the ultimate comfort. The most critical design aspect of this ring is its perfect geometry. Every ring is cut with precision and hand-finished to an ideal curvature and silk-smooth surface. 
Shop Black Zirconium Ring  By clicking the link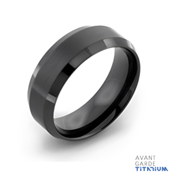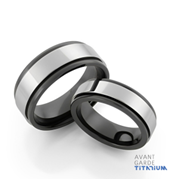 Wrapping Up
If you're seeking a ring that is a true reflection of your distinctive style, consider Zirconium ceramic rings. They're not only visually striking but also practical, resilient, and comfortable to wear. With Avant-Garde Titanium, you're guaranteed rings that are as unique as you are, promising quality, style, and a story worth telling. Make a statement with a black ring today – you won't regret it!
Shop now! By clicking the link
1-513-520-0527