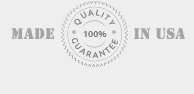 Inlay Titanium Rings
Whether it's a wedding ring or just a stunning new addition to your jewelry collection, a titanium ring with precious metal inlays can make a bold and beautiful statement. Inlaid titanium rings with gold, silver or platinum add a unique touch of color to the already classic look of titanium.
Considering that titanium is strong enough to build an airplane from; our titanium rings also boast a solid and durable construction that a traditional ring made entirely of gold or other precious metals could not compete with. Each Ring is inlaid with gold, silver, platinum or black rubber.
When titanium rings are inlaid with yellow or rose gold, the contrast is bold and stunning; with white gold, platinum or silver the look is more subtle and sophisticated.
Since titanium is so strong, it is ideal to use with other materials We use an aircraft titanium base and add an inlay of solid 18K or 14K gold, silver or platinum that is at least 1/3 the depth of the ring. We take great pride in the fact that our titanium inlay rings are never plated or gold-filled.
When choosing your titanium rings with inlays, you can select the inlay material, titanium grade, ring width and finish to give it a unique look. Keep in mind the fact that you can also completely customize your ring beyond the choices offered on the order page—make the inlays narrower or wider, move them off-center or make other changes to create a ring that's all your own. Just email us so we can begin the process of creating your custom order and give you a price quote.
In addition to titanium rings with inlays of gold, silver and platinum, we carry black rubber inlaid titanium rings, inlaid tungsten rings and black ceramic rings -- the best alternative to Black titanium rings!
For more information about titanium rings with inlays, contact us today.