Custom Titanium Rings for Men & Women
Custom Ordering your jewelry allows you to decide exactly what you want. If it is simply changing a profile of a ring or designing it from scratch we will work with you to make your custom jewelry ideas a reality.
Because every ring is individually hand crafted after we receive your order, we can offer you a choice of different widths, finishes, titanium grades, inlay metals, etc.
If you have seen a design in our collection that you are interested in, but would like to change the width, inlay, or even add stones or combine some design elements of two or more rings, please e-mail us to receive an estimate on a custom made piece.
If you have an idea of your own design, please e-mail us for feasibility and a quote. We look forward creating a beautiful, enduring piece that you will be proud to wear. Please see below for a few examples of recently completed custom titanium rings.
Create & Design Your Own Unique Ring or Wedding Band
One-of-a-kind titanium ring with two raised gold inlays and a princess cut ruby.
Custom drawing and Finished titanium ring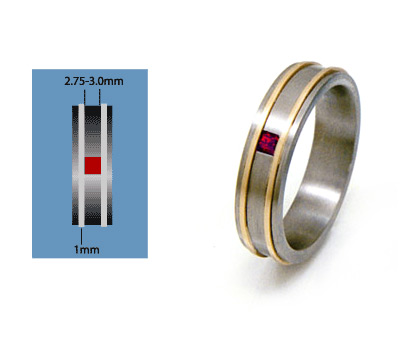 ---
Custom titanium ring based on the existing model. This ring was a result of combining design elements from 2 different rings in our on-line collection.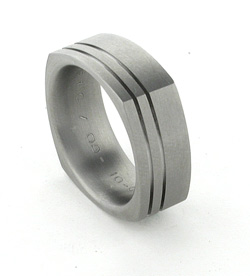 ---
This ring was a result of a simple question: "can you make a ring that looks like a nut?"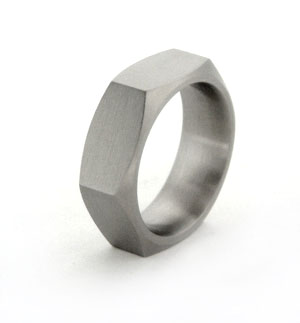 ---
Car engine piston titanium ring.
Design idea: create a unique ring that would resemble a car engine piston...

We've made a few variations of this design that are now available in our On-line store. Please click on the thumbnails below.

Design your ring today - We will help! Email us if you like any of the above custom-made titanium rings, or if you have an idea of your own.