Precious Metals: Platinum (Pt), Gold (Au), Silver (Ag)
Whether it's a wedding band or just a new addition to your jewelry collection, precious metal inlay will add a unique touch of color to the solid look of titanium or tungsten carbide, transforming bold, hard metal ring into a fashion statement.
We created this page in hopes that it will make it easy to choose a perfect inlay for your new titanium ring.
Every computer, every monitor will show colors differently. Rings can appear darker or lighter, colors can appear more or less saturated. For example, 18K yellow gold can easily look like 14K and visa verse depending on your monitor's color setting. But by showing examples of all the metal choices on one page, we hope to eliminate the guess work.
Titanium Rings with White Gold, Platinum and Silver inlays
Yellow and Rose gold inlays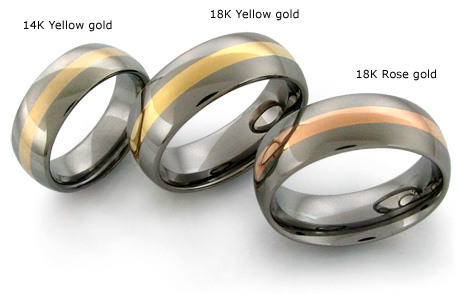 When choosing an inlaid titanium ring, it is important to understand how the ring is made.
All of our rings are made only with solid inlays of gold, silver or platinum. All inlays are at least 1/3 the depth of the ring.
Only true karat gold (14K and 18K), platinum 950 and sterling silver is used.
Inlay channels are engineered and precision cut using the latest technology to ensure top quality.
We do not make gold plated rings, which look similar to inlaid rings in the beginning, but fade fast as thin gold plating wears off.
We do not use 12K, 10K or 9K gold, or platinum 550 alloys, which are less expensive, but are subject to discoloration and tarnishing and can cause allergic reactions.
We do not use shallow inlay channels, which lower the cost (less gold used) but compromise the integrity of the ring
Please, click here to learn about titanium grades we use in our rings.
The exceptional value and charm of our wedding rings comes from them being handcrafted from the strongest grades of titanium and precious metals-both of extraordinary purity. All of our rings are hallmarked (stamped with their titanium grade and karat mark, such as 22K, 18K, 14K, PLAT etc.) to guarantee you the purity of the gold, platinum or silver used in its manufacturing.
Hallmarking is one of the most reassuring of quality guarantees and one of the oldest forms of consumer protection..
Precious metals - Platinum (Pt), Gold (Au), Silver (Ag).
Gold.
The karat mark refers to the purity of gold. Gold in its purest state, 24 karat, is generally considered too soft for practical use in jewelry. It must be alloyed with other special metals to increase its durability and workability. Twenty-four karat is 100% pure gold, or 24 parts gold; 18K is 18 parts gold and 6 parts other metal; 14K is 14 parts gold and 10 parts other metal; and 10K is 10 parts gold and 14 parts other metal.
Alloys of less than 10 karat gold cannot be legally marked or sold as gold jewelry in the United States. They cannot be stamped with the karat mark and are not considered real gold. For the manufacturing of our titanium and gold rings, we use the following karats of gold:
14k, 18k and 22k yellow gold
14k white gold
18k rose gold
22K yellow gold will give you the most contrast when inlayed in titanium. It has a deep rich, ethereal yellow color. 18K is the next best metal to combine with titanium if you are looking for a lot of contrast. It is just a little bit paler than 22K but still has its own nice, immaculate yellow color and is more resilient than 22K since it has more of the hardening alloys.
14K white gold is made by combining pure gold with nickel and zinc. White gold has a soft, blithe white color with just a hint of fair yellow. When used for inlays in titanium, 14K white gold will not produce a lot of contrast, especially if the entire ring is polished. So, it will work great if you are looking for a more subdued, modest look.
Platinum.
For the manufacturing of our titanium and platinum rings, we use the PLAT 950 (95% platinum and 5% ruthenium).
Pure platinum is very malleable and therefore difficult to process. Because of this, platinum is most often mixed with other alloys in order to create jewelry. The most commonly used alloys for platinum are palladium, rhodium and iridium. In the United States of America, for an item to be described as "platinum," the platinum content must be at least 95% platinum and 5% alloys. 95% or above, the item can be stamped "PLATINUM," "PL" or "PLAT." Anything less than 95% platinum, the alloy also must be stamped; e.g. IRID / PLAT for 10% iridium alloy.