When planning a wedding, every detail counts. From the venue to the flower arrangements, to the suit, and yes, even the groomsmen's gifts. This momentous occasion is about more than just expressing gratitude—it's about giving something meaningful that stands the test of time, much like your camaraderie. Choosing the perfect gift to thank your groomsmen is not a decision to be taken lightly. Amid the countless details to sort out before the big day, one question remains: What will you give your groomsmen?
Choosing Groomsmen Gifts
Remembering the men who have stood by your side through thick and thin is essential while planning your wedding. Their dedication and friendship, demonstrated through actions such as attending countless fittings and organizing an unforgettable bachelor party, deserve a special token of appreciation.
However, the problem is that groomsmen's gifts often end up feeling gimmicky. A well-chosen gift, on the other hand, will be appreciated for years to come.
You want a practical gift. A personal, high-quality, long-lasting, thoughtful gift that stands the test of time and embodies the importance and value of your friendship with your groomsmen.
So why not say thank you with a piece of jewelry?
Jewelry for Your Groomsmen Gifts
Offering jewelry as groomsmen gifts is a timeless tradition. It's not just stylish but also symbolizes the bond that ties you together. It's a timeless and sentimental gift that your friends can wear on the big day and cherish forever. Unlike other gifts that may be used once and stored away, fine jewelry can be worn and enjoyed for years to come.
Why Titanium Jewelry?
Choosing titanium jewelry from  Avant-Garde Titanium isn't just about aesthetic appeal—it's about investing in durability, quality, and longevity. Titanium is a remarkably strong yet lightweight material. It doesn't corrode, tarnish, or discolor, making it an ideal choice for those who value practicality and style. It's hypoallergenic, making it perfect for those with sensitive skin.
The silvery hue of titanium jewelry possesses a unique sophistication, lending a modern edge to classic designs. With titanium, you can be assured that your gift will remain a cherished token of appreciation for years to come.
Avant-Garde Titanium
When it comes to finding the right jewelry for your groomsmen, Avant-Garde Titanium stands out from the crowd. Our impeccable craftsmanship, attention to detail, and focus on the highest quality materials make us a premier choice for groomsmen gifts. We believe in creating jewelry that captures more than just design—it encapsulates emotions, memories, and bonds.
With a broad selection to choose from, we have something for every style and taste. From sleek and modern chain necklaces to classic bracelets and even refined rings, the options are endless. Each piece is designed with durability and aesthetic appeal in mind, ensuring that your groomsmen will love their gifts and use them for many years.
Gift Ideas for Your Groomsmen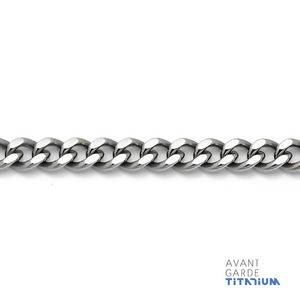 Avant-Garde Titanium's chain necklaces are an excellent choice for a unique and enduring groomsmen's gift. Exuding a masculine and timeless appeal, these necklaces are skillfully crafted from superior titanium, renowned for their lightweight yet remarkably robust qualities. The intricate chain links are flawlessly finished to ensure a smooth, comfortable fit and a luxurious sheen that lasts a lifetime.
Ideal for everyday wear or special events, titanium chain necklaces resist corrosion and tarnishing, ensuring a lasting beauty that will continue to honor your groomsmen's role in your wedding for years to come.
Titanium necklaces come in a variety of different sizes and styles. Our most common chain styles include the curb chain, box chains, and rope chains. Each chain style varies in length, ranging from 16″ to 30″ for maximum comfort.
Chain necklaces are not just pieces of jewelry, but symbols of camaraderie and brotherhood, making them the perfect thank-you gift for your groomsmen.
Shop Titanium Chain Necklaces By clicking the link
Elevate the traditional groomsmen's gift with the Avant-Garde Titanium's Dog Tag Pendant. Crafted with precision, this pendant showcases the strength and luster of titanium, making it not only durable but also a contemporary piece of art. Its sleek design pays homage to classic military tags yet exudes a modern flair, ideal for groomsmen with sophisticated taste.
As a metal, pure titanium is highly malleable and can be easily etched, grooved, and engraved. This opens up a new world of possibilities for custom engraving, allowing each groomsman's initials or a special date to be etched on its surface, adding a touch of individuality and sentimentality to the gift. This pendant is perfect for the modern wedding party, capturing camaraderie and style.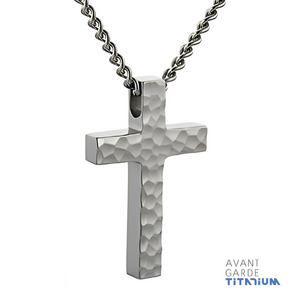 The Hammered Titanium Cross Pendant  offers an exquisite blend of tradition and modernity, making it a perfect groomsmen's gift. Handcrafted from resilient titanium, the pendant showcases a hammered finish that reflects light in a myriad of ways, representing the unique journey of friendships and the bonds forged over time.
Not only is it a symbol of faith and devotion, but its contemporary design also speaks to a refined taste and a love for timeless elegance. Gifting this pendant to your groomsmen would not only be a gesture of gratitude but also an embodiment of the deep connection and shared memories that have led up to your special day.
Shop Hammered Titanium Cross Pendant By clicking the link
Avant-Garde Titanium's  Black Zirconium Ceramic Bracelet is a magnificent union of advanced materials science and exquisite craftsmanship. 
The bracelet carries an intrinsic sense of luxury, enveloped in a matte black finish that brings an edgy and contemporary feel to the accessory. Each ceramic insert has been precision-fitted to harmonize with the black zirconium links, resulting in a rhythm of alternating textures that play with light and shadow.
Designed with resilience in mind, it's not just a piece of jewelry but a testament to innovation and style that stands the test of time. It's the perfect accessory for modern groomsmen seeking a unique blend of cutting-edge aesthetics and durability.
A bold look for a daring attitude, this men's contemporary bracelet is the epitome of chic minimalism combined with future-forward design. Its clean lines and smooth, matte finish emanate an understated sophistication that nods to contemporary aesthetics, making it an ideal accessory for modern groomsmen.
The 20mm wide  Contemporary Titanium Bracelet showcases unique, interlocking rectangular horizontal grates, expertly constructed to form a fluid, ergonomic fit around the wrist. The absence of extraneous detail allows the material's natural beauty and strength to take center stage. The unique metallic-gray sheen of the titanium offers an eye-catching contrast to the skin, and the bracelet's robust construction ensures durability, even in the most demanding conditions. 
Avant-Garde Titanium's Contemporary Titanium Bracelet is the perfect statement piece for any groomsman.
Shop Contemporary Titanium Bracelet By clicking the link
Customizations and Engraving for a Heartfelt Touch
The beauty of Avant-Garde Titanium doesn't stop at their collection. We go the extra mile to make your groomsmen's gifts as unique as your friendship. That's why we offer personalized customizations and engravings. Add your groomsmen's initials, the wedding date, or a special message to create a gift that's truly one-of-a-kind. This heartfelt touch is sure to make your gift even more memorable.
Say 'I Do' to Groomsmen Gifts From Avant-Garde Titanium
Your wedding day is a celebration of love. Choosing Avant-Garde Titanium for your groomsmen's gifts ensures that your appreciation for their support is not only expressed but also remembered. With durability, style, and a touch of personalization, you're gifting not just a piece of jewelry but a token of lasting gratitude.
As you continue with your wedding preparations, keep Avant-Garde Titanium in mind. After all, in a day filled with fleeting moments, some tokens are meant to last forever.
Shop now! By clicking the link
1-513-520-0527