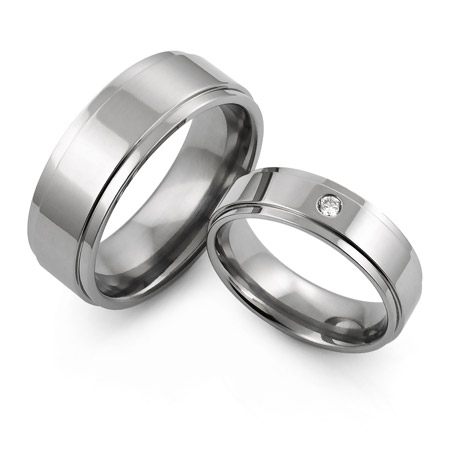 Platinum and titanium rings. People tend to ask what the difference is between these two metals that have become popular choices for rings. To clear the confusion, here is the lowdown on these metals so you can get an idea of what differentiates one from the other.
Availability and Cost
Platinum is a difficult metal to source as its supply is limited. This translates to an expensive piece of jewelry for someone looking to buy a rare, valuable piece. Titanium is more readily available, making it more affordable compared to platinum.
Bonus Tip: Titanium is budget friendly metal for building custom engamement rings. You can learn other money saving tips, without sacrificing quality, in our guide for How to Save Money on a Custom Engagement Ring.
Durability and Malleability
Both metals are durable but it is easier to remove marks from platinum than from titanium. Titanium is one of the hardest natural metals and will not bend, dent, or scratch easily, making it last a lifetime and beyond.
While both metals are extremely sturdy and durable, platinum can easily be sized should the owner require an adjustment due to weight loss or gain, or for a transfer of ownership. Titanium is difficult to size because of its exceptional strength, so you might need to buy a new titanium ring if your dimensions change.
Weight
Platinum has a heavier feel, making it feel more substantial. Titanium, while extremely strong, is lightweight and ideal for those who do not like heavy jewelry.
Other Similarities
Besides their inherent strength as a metal, both platinum and titanium are hypoallergenic, making them great options for people with sensitive skin.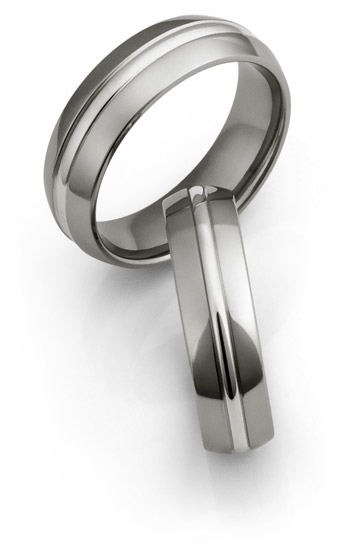 Our Titanium Rings
At Titanium Style we have a wide selection of titanium rings for you to choose from. We carry simple, classic titanium rings, to rings inlaid with silver, gold, and platinum, as well as rings with tension mounts to hold gemstones in place.
Our classic rings show off the inherent beauty and sheen of titanium. These rings are popular choices for wedding bands for both men and women because they can last a lifetime, as every marriage should.
Blending titanium with precious metals, our collection includes rings inlaid with gold and silver, as well as platinum titanium rings that offer a style with a more edgy, modern look. Some of our inlaid pieces even have black rubber inlays that create a striking contrast against the sheen of titanium. These are great choices for wedding bands as well if you want to have a fusion of contemporary and classic designs.
Our rings with stones add depth and color to titanium. While flush settings are available, it is our tension set rings that really deliver that wow factor by making the stones appear to "float" using this unique and beautiful setting.
Whatever your style choice, you can be sure that it will be something you'll be able to enjoy for many years to come.