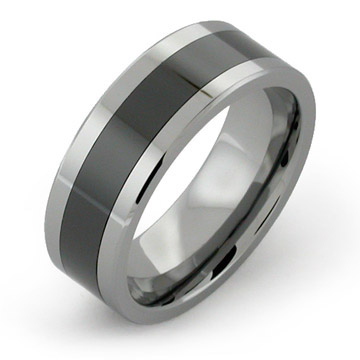 Whether they're rashes from your necklace, bracelet, or ring, jewelry and metal allergies are fairly common especially among individuals with sensitive skin. Tungsten rings are a great option for those looking for accessories or wedding bands that won't irritate the skin.
Metal allergies occur when people who are allergic to certain types of metals experience dermatitis due to contact with metal irritants. People with highly sensitive skin or those with diagnosed conditions such as atopic dermatitis, also known as eczema, are prone to rashes especially in the ring area as wedding bands are worn daily for prolonged periods of time.
It's common practice in jewelry production to use metal alloys to lower overhead cost, which is why it's important for you to take special care when selecting jewelry. Those who have experienced skin irritation should opt for hypoallergenic metals such as tungsten to minimize the occurrence of skin allergies.
Rings crafted from tungsten can contain either cobalt or nickel binders. While nickel may be an irritant, tungsten and nickel alloys are actually hypoallergenic. This is because in the process of combining both metals, the nickel binds so well with tungsten that it loses its ability to react with the skin.
Cobalt alloys, on the other hand, are a common irritant and may trigger rashes. Aside from causing a skin reaction, cobalt-based tungsten rings will appear to have spots and stains over time in areas where the metal came into contact with the skin. Oxidation occurs when cobalt bonds with oils in the skin. This makes the metal appear similar to tarnished silver.
Choosing tungsten carbide for rings offers several other benefits including durability when compared with other precious metals such as traditional gold and silver. Tungsten carbide rings also have low-maintenance requirements and don't need regular polishing since the original polish can last a lifetime. Additionally, tungsten carbide is a more affordable option to other metals, including gold. While there are expensive tungsten carbide rings, options are available in the market that will ensure something within the price range you're comfortable with.
Here at Titanium Style, each of our tungsten rings are infused with carbide and are 100% free of cobalt. We offer engraving and special finishes that will customize your rings and make them even more special for you or your loved one. Our rings are also covered by our lifetime warranty and size replacement guarantee.
To learn more about our tungsten wedding bands as well as our other products, contact us today.