Our primary goal is to help you showcase your commitment to the one you love with a ring that will stand the test of time. While we believe personalized traditional rings, such as titanium, are an excellent way to do this, we understand that with options such as silicone rings available, whether or not conventional wedding rings are suitable for you will come up. Therefore, we want to dispel those concerns by discussing the pros and (potential) cons of titanium rings and silicone/rubber rings to help you decide.
Which Ring Is the Best Choice?
While we understand that ring shopping can be exciting and stressful, it can also be quite enjoyable. Finding that perfect ring that's comfortable and your style is a once-in-a-lifetime experience. 
However, there is no simple answer or one size fits all solution to which ring is the best choice. We hope this comparison article will inform you of the offerings both titanium and silicone rings can provide. But, more importantly, which ring is the best match for you and your spouse.
What are Silicone Rings?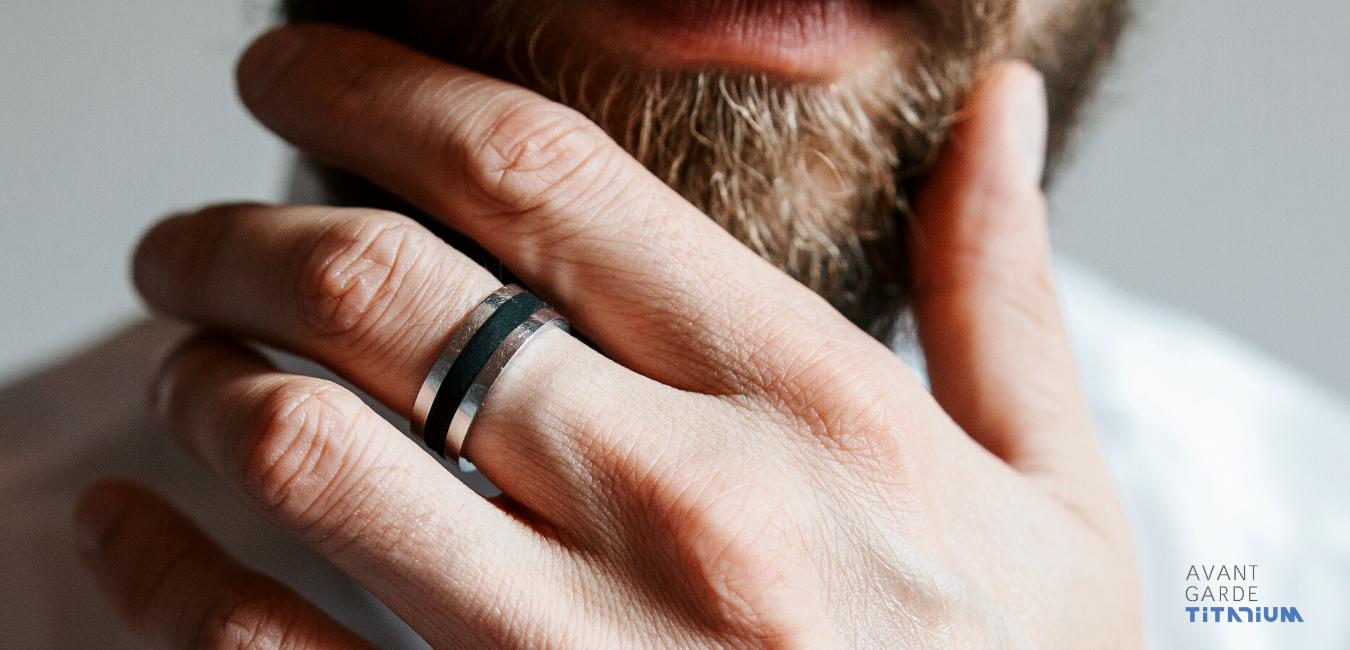 Silicone rings are rubber, allowing flexibility and various colors and textures. Their most apparent surge of popularity in the last few years is due to their affordability, with less than 10% of the cost of traditional gold rings. However, they still remain unsustainable and have questionable durability. Research shows that silicone rings will not last a lifetime if worn every day since silicone does break down over time. 
It's understandable why these have become so popular, especially among the more active members of our society. But it's maybe worth thinking about a more sustainable, permanent solution before jumping on the bandwagon.
Pros
Contrary to a Titanium Ring, a Silicone ring is:
Affordability. Silicon rings are 10% of the cost of a gold ring, allowing for easy replacements if it is broken or lost.   

Safety. Since silicon does not conduct electricity or heat as some other metals might, which can be beneficial for some professions. In addition, silicone rings can be easily cut off in the case of an emergency. 

Customization. Silicone rings come in hundreds of colors, patterns, and textures to quickly find a ring to fit your style. However, unlike traditional rings, gems or other additions cannot be made to the ring. The silicone ring's design is the only thing that can be altered. 
Cons
Silicone rings are not without their drawbacks either. Perhaps the most obvious is their replaceability and environmental risk. They're designed to be easily replaced in the event of a rip or tear, which is excellent. However, we've met people who have quickly gone through three or so in a year! Let alone the sentimental value of the ring. The ring you may be married with will likely be a different ring you will be wearing in a few months. In addition, silicone rings are not meant to last as long as metal rings such as titanium. Here's a list of other things that count against silicone rings. 
Sensitivity. Silicone rings are not hypoallergenic but can be an alternative for those sensitive to certain metals. However, silicone allergies do exist, meaning that even though most sensitive skin can wear these rings, there is a chance for skin irritation. 

Not heirloom pieces. While you may be able to pass down your titanium wedding ring throughout the generations, silicone rings aren't likely to last that long. They are made of a degradable rubber material that will start to break down, especially if you are wearing them every day.

Non-traditional. For many people, silicone rings are not their idea of marriage. If you love a symbolic representation of your love and marriage, you may not want to choose a silicone ring. 
Titanium Wedding Ring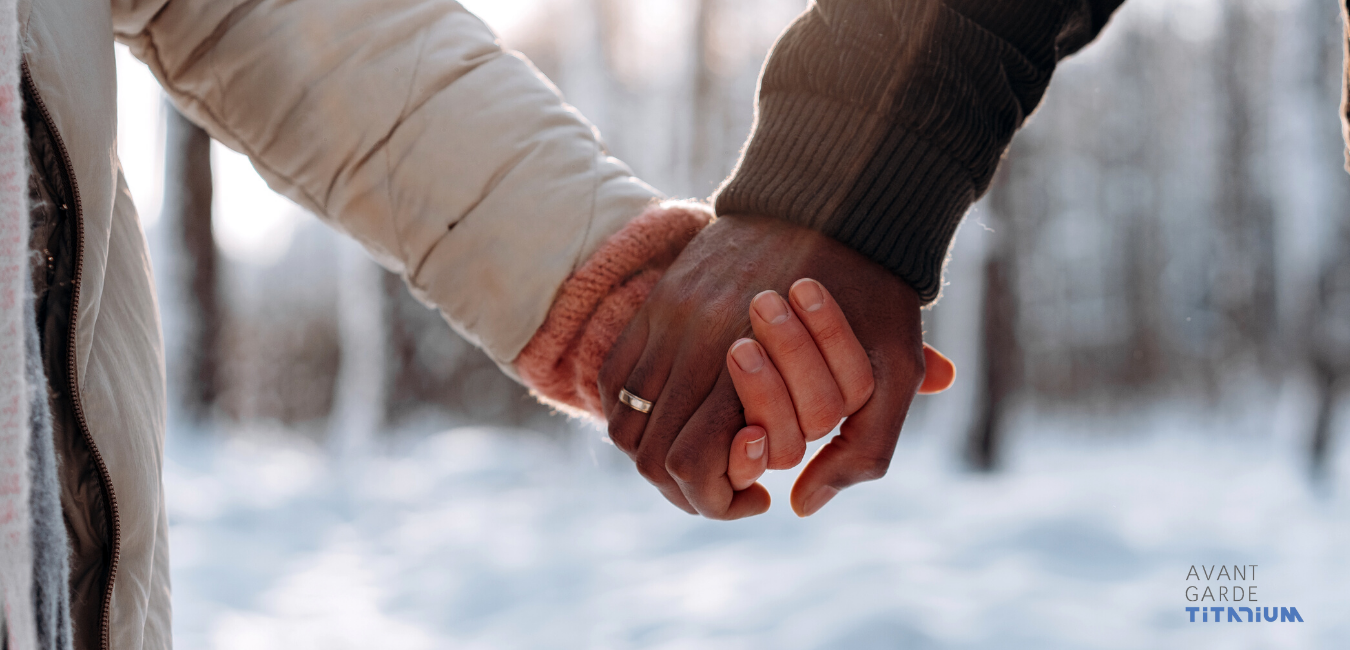 While the knee-jerk reaction for wedding rings is made of precious metals like gold, silver, or platinum, titanium offers undeniable benefits no other mental or silicon ring can provide. Titanium is one of the hardest metals in the world, being 3 times stronger than steel. Despite this, its remains lightweight and scratch-resistant. They offer an affordable option that can last generations and represent the undeniable commitment to your partner. Here's a look at a few other perks to a titanium wedding band.
Pro 
Customization. Titanium rings come in several customizable options, including band shape, finish, inlays, stone set, tension setting, and engravings. As a result, finding the perfect ring to showcase your love and commitment is easy with so many different design combinations.

 Lustrous Shine. While for some, the polished shine of your ring reflecting back at you may not be your fancy, titanium rings offer various finishes to fit your style, from polishes to hammered. So regardless of how much you want your ring to stand out, we have a titanium ring right for you. 

Heirloom pieces. Titanium is resistant to corrosion and highly durable, ensuring your ring will be around for generations. So if the idea of passing down your love and commitment to your partner and family from generation to generation is something of interest, look no further. 

Durability. Titanium is one of the hardest metals in the world, with a tensile strength of up to 150,000 psi and a Brinell hardness value of 330. In addition, titanium is highly resistant to corrosion, unlike some other metal types.   

Lightweight. Titanium is one of the lightest metal materials being 45% lighter than steel. 

Hypoallergenic. Titanium is one of the few metals that will not cause any allergic reaction, skin irritations, or discolorations. It is safe for people suffering from nickel allergy and effective in preventing it.
Cons
Even with the endless benefits of titanium rings, we know there are still other factors to consider when picking out the perfect ring. 
Difficult to remove

. Titanium is one of the strongest metals, which can also lead to some difficulties when they need to be released in the case of an emergency. However, titanium rings can be cut off with the proper equipment and by professionals in the medical or jewelry-making fields. 

Scratch. Although titanium is one of the strongest metals, it may still get scratched depending on the finish. However, at Titanium Style, we offer a

free lifetime re-polishing

service. If the ring should become scratched, you can send it back to us twice a year to be refinished for as long as you own the ring.

Can be expensive to replace If your ring is damaged or stolen.  However, at Titanium Style, we cater to different types of budgets offering basic designs to custom gemstones and precious metal inlays. If you're looking for a gorgeous band that will last, titanium wedding rings are definitely recommended. 
Final Verdict
While we would love to see more adopters of Titanium rings, there is no "one size fits all" when it comes to wedding bands. With that in mind, before jumping on the bandwagon of colorful silicone rings, consider your options and opt-in for a more durable option that won't end up in a landfill before you know it. Titanium will stand the test of time and take its wear and tear like a champ.
If you're looking for the perfect titanium rings check out Avant-Garde Titanium's extensive selection. Our titanium rings are individually handcrafted allowing several customizable options including inlays, precious gemstones, finishes, personal engravings, and more. We take pride in the quality and services we offer our clients, and we sincerely hope that Avant-Garde Titanium will become your source for titanium jewelry.
We look forward to creating a beautiful, long-lasting piece that showcases your commitment.
Shop now! By clicking the link
1-513-520-0527
sales@titaniumstyle.com