For the perfect gift this holiday season, browse our unique and fashionable titanium rings. Our collection of titanium jewelry is as stylish as it is expansive. This holiday, design a titanium ring for your loved ones that no one else has. Whether you want your titanium ring with precious metals, gemstones, or are looking for the perfect winter fashion, Avant Garde Titanium Style can meet your needs. We can help you design the perfect titanium ring or inspire holiday gift ideas for your friends and family.
Titanium Rings Vs. Silver Rings
Not only are titanium rings trendy right now, but they also offer many benefits traditional jewelry cannot. If you are looking for modern and contemporary jewelry, consider a titanium ring for a chic addition to your winter collection. It is extremely lightweight, yet virtually indestructible. If you have a demanding job where you are using your hands or subject them to a lot of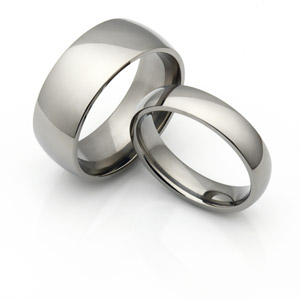 wear and tear, titanium rings are the optimal choice. Titanium jewelry stands up to harsh soap and abrasive chemicals while resisting many bumps and dents along the way. It is durable without being so heavy that it weighs you down.
One of the most popular benefits of titanium rings is the fact that they are hypoallergenic. Many people are allergic to gold and silver, and gold rings can often leave behind skin discoloration or rashes. Not only that but roughly 10% of the world's population is allergic to nickel, which unfortunately makes up a lot of modern-day jewelry. With all of this in mind, consider titanium jewelry to avoid reactions or outbreaks on your skin. Titanium jewelry won't cause reactions or outbreaks and you can still achieve that sleek, silvery look to your jewelry. This is the perfect solution for a contemporary accent to your style. Titanium rings and titanium necklaces are the perfect addition to any winter jewelry collection.
Add Festive Gemstones to Your Titanium Rings and Necklaces
The holidays are a perfect time to get festive, especially with your jewelry and overall style. Add a red accent to your titanium ring. Not only are rubies fashionable, they will definitely catch your eye against a clean and shiny backdrop like a titanium ring. The mix of silver and red is appropriate for the season and you will wear it long into the new year. Try a tension setting ring with an inset ruby for a festive holiday look.
The perfect complement for any holiday titanium ring is obviously something green. Browse our pipe-cut titanium rings and add tsavorite or tourmaline for a pop of holiday color. These stone-set titanium rings are sure to get you in the holiday spirit this December. Pair one of these titanium rings with another piece of titanium jewelry for a polished finish that is fashionable all winter.
Titanium Necklaces Will Complement Your Titanium Ring
The perfect complement accessory for a titanium ring is always a titanium necklace. This fall and winter, chunky chains are in. Browse our titanium chains and order them as thick or as thin as you would like.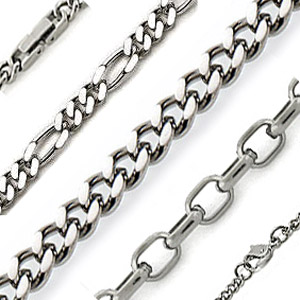 Skip the traditional gold chains for men and women this holiday season and check out something more cutting-edge. Titanium necklaces offer an elegant flair and are sure to turn the heads of your loved ones. Whether you want one for yourself or that special someone, we have an inventory full of chains for men and women to browse.
Shop our many titanium pendants we have available at Titanium Style. For a meaningful Hanukkah gift, give your friends or family the traditional Star of David titanium necklace. Paired with a titanium chain, this necklace will be as meaningful as it is stunning. Purchase a titanium ring to match your chain for a beautiful holiday gift set.
Titanium pendants are perfect for both men and women. In addition to Hanukkah, give this titanium necklace as a memorable bat mitzvah gift for a special young man. These men's chains are not only attractive but sentimental too. They will bring back memories that will last for years to come.
Keep Your Holiday Jewelry Out into the New Year
Just because the holidays might be coming to a close, don't put your holiday jewelry away just yet. Christmas, Kwanzaa and Hanukkah may only last a little while, but with titanium jewelry, you can celebrate the winter solstice for months to come. As long as the snow is still around, people will be talking about your necklaces, bracelets and titanium rings for quite a while. Let them notice it!