Your wedding ring symbolizes your love and commitment to your partner. It is a cherished piece of jewelry you wear daily and holds significant sentimental value. Over time, however, circumstances may arise that make upgrading your wedding ring necessary and desirable. For example, maybe your ring no longer fits due to a change in size or style preferences, or you're celebrating a milestone in your relationship and want to mark the occasion with a new ring. Whatever your reason, upgrading your wedding ring can be an exciting opportunity to find the perfect fit for you and your partner.
Why Upgrade Your Wedding Ring
If you're considering upgrading your wedding ring, you're not alone! Many couples choose to upgrade their rings at some point in their marriage for a variety of reasons. Here are a few reasons why you might want to upgrade your wedding ring.
Size Change
If your wedding ring no longer fits your finger comfortably, it's time to consider resizing it. Whether due to weight loss or gain, pregnancy, or just natural fluctuations in your body, your ring may not fit as well as it once did. Upgrading your ring to a better-fitting size ensures that you can wear your ring comfortably and confidently for years to come.
Your Ring Has Sustained Damage
Wear and tear over the years can cause damage to your wedding ring, such as scratches, dings, or even lost stones. If the damage is severe, it may be time to upgrade to a new ring that's in better condition.
Style Upgrade
If you've had your wedding ring for a while, you may be ready for a style upgrade. Perhaps your original ring was a simple design you loved when you married, but now you're looking for something more unique or eye-catching. Or, maybe you're just ready for a change and want a ring that better reflects your style. Upgrading your ring can allow you to choose a design that speaks to you and truly feels like "your" ring.
Sentimental Value
Your wedding ring symbolizes your love and commitment but can also hold sentimental value. Upgrading your ring can allow you to keep that sentimental value while creating new memories with a ring that better represents your current stage in life. Whether you add an engraving, incorporate a family heirloom, or choose a ring that holds special meaning, upgrading your wedding ring can help you feel even more connected to your partner and your shared history.
Milestone Celebrations
Marriage is filled with special moments and milestones. Upgrading your wedding ring to commemorate these special moments can be a great way to cherish and remember your love and commitment to each other. Plus, it can be a fun way to treat yourself and your partner to something special you'll cherish for years.
When to Upgrade Your Wedding Ring
The decision of 'when' is simple: whenever it feels right—and if you're asking the question, it might be the right time!' While there's no right or wrong time to upgrade a wedding ring, major milestone events, such as anniversaries, present the perfect opportunity to indulge in a new wedding ring to symbolize the growth of your relationship. For instance, the 10th anniversary is a prevalent time for couples to upgrade their wedding rings. Ultimately, however, the decision is yours whether you choose to upgrade after one year of marriage or 50. 
How to Upgrade Your Wedding Ring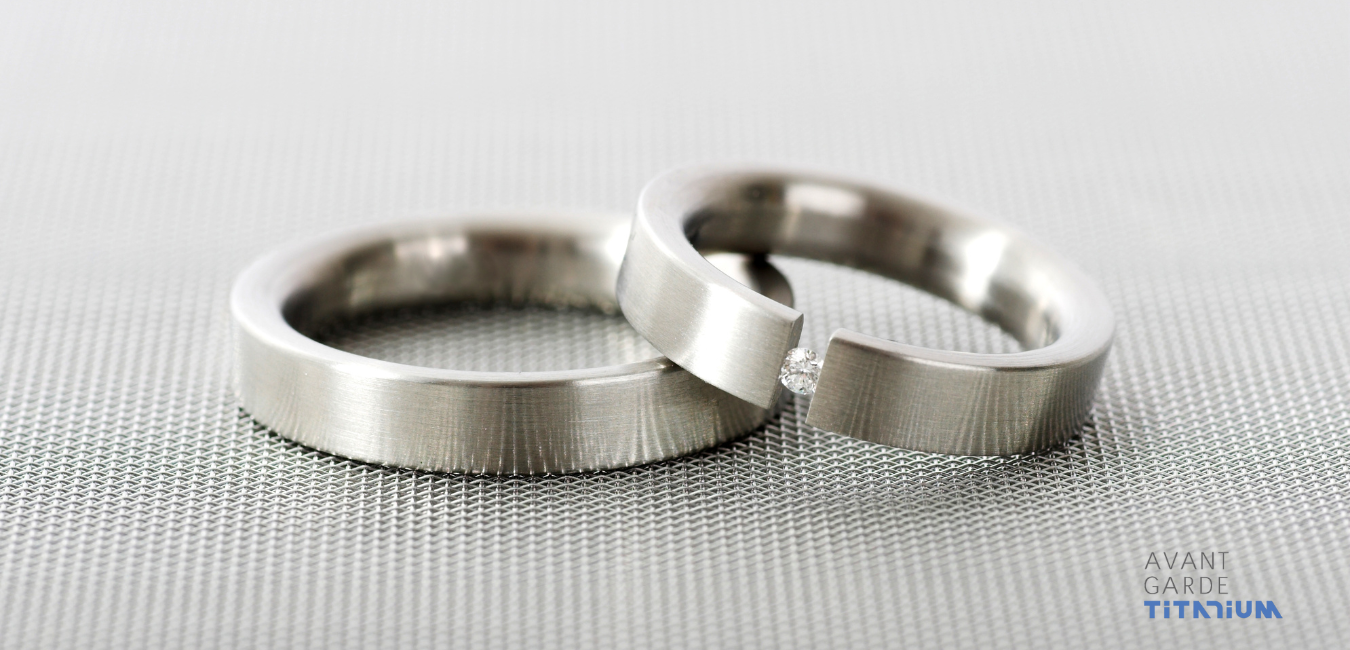 Upgrading your wedding ring can seem daunting, but it's actually a straightforward process. Start by deciding on what you're looking for in a new ring. For example, do you want a different metal, a unique setting, or a gemstone? Once you know what you want, shop for options that fit your style and budget.
When choosing a new ring, consider your lifestyle and how you will wear your ring. For example, do you work with your hands or participate in activities that could damage a delicate setting? In that case, you may choose a ring with a more durable setting, like titanium.
It's also important to consider your partner's feelings and opinions on the upgrade. This is a joint decision, so involve your partner in the process and choose a ring you both love.
Is it Time to Upgrade Your Wedding Ring to Titanium
If you're considering upgrading your wedding ring, a titanium ring should definitely be on your list of options. Not only are titanium rings sleek and stylish, but they're also incredibly durable and long-lasting. Unlike other metals that can easily scratch or dent, titanium is resistant to wear and tear, making it a great choice for those with an active lifestyle or who work with their hands. Plus, titanium is a lightweight metal, which means you'll barely even notice you're wearing it.
But the benefits of titanium rings don't stop there. Titanium is also hypoallergenic, which means it won't irritate your skin like other metals can. This is especially important if you have sensitive skin or allergies to certain metals. And with so many different designs and finishes available, you're sure to find a titanium ring that perfectly matches your personal style. So why settle for a traditional gold or silver wedding band when you can upgrade to a titanium ring that offers both form and function?
What to Do with Your Old Ring After an Upgrade
Your old wedding ring holds memories and sentiments, so deciding what to do with it after an upgrade is essential. You can keep it as a memento and store it in a safe place, or you can pass it down to a family member as an heirloom. 
Upgrading your wedding ring can be an exciting and meaningful experience. It symbolizes growth, change, and progress in your relationship. However, you may wonder what to do with your old wedding ring once you upgrade. Don't worry, there are plenty of great options for your old ring that will help you make the most of your upgrade.
Here are some ideas for what to do with your old wedding ring:
Pass it down to a loved one:

Your old wedding ring is a beautiful piece of jewelry that has sentimental value. Why not pass it down to a loved one, such as a child, grandchild, or close family member? This is a beautiful way to keep the ring in the family and continue its legacy.

Sell it:

If you don't have a family member to pass the ring down to, consider selling it. There are plenty of reputable jewelers and online marketplaces that will buy your old ring, allowing you to recoup some of the cost of your upgrade.

Keep it as a Memento:

You can keep it and store it in a safe place or wear your old ring on the right hand. 

Donate it:

Another option is to donate your old wedding ring to a charitable organization or cause. Many organizations accept jewelry donations, and your old ring could make a big difference in someone's life.
Whatever you decide to do with your old wedding ring, remember that it's important to honor the memories and sentimentality associated with the ring. So take your time, consider your options, and make the decision that feels right for you and your family.
Upgrade Your Wedding Ring with Avant-Garde Titanium Style
Upgrading your wedding ring is a personal decision that can have significant sentimental, practical, and symbolic value. If you're considering upgrading your ring, take the time to explore your options and find a ring that truly speaks to you and your partner. Whether it's a modern take on a classic style or a completely unique design, your new wedding ring should reflect your style, love, and commitment to one another.
If you're looking for the perfect titanium rings check out Avant-Garde Titanium's extensive selection. Our titanium rings are individually handcrafted allowing several customizable options including inlays, precious gemstones, finishes, personal engravings, and more. We take pride in the quality and services we offer our clients, and we sincerely hope that Avant-Garde Titanium will become your source for titanium jewelry.
We look forward to creating a beautiful, long-lasting piece that showcases your commitment.
Shop now! By clicking the link
1-513-520-0527
sales@titaniumstyle.com