It's the time of year when sweater weather is in full force. The short-sleeves are replaced with Argyle and light blues become maroon. Days are shorter and nightlife is shifting ever so slightly. With the coming of fall comes new fashion trends for clothes and accessories. Be sure to stay on top of fall colors and trends, including the look and style of your titanium jewelry. Dress up your outfit with titanium rings for a sleek and refined look. Titanium rings enhance your style in any season, but they bring out a special fall flair. The contemporary silver or "metal" look of titanium rings complement any brown or maroon color palette perfectly. We offer customized titanium rings that not only look incredibly chic, but they are also in this fall season. Titanium jewelry will help you stay in fashion.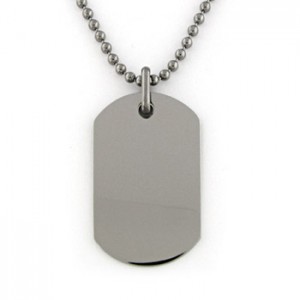 Titanium Chains for Fall Fashion
If you are looking for some accessories to pair with your titanium rings, consider a titanium chain. Chunky chains are in this fall, so check out our large chain sizes for your next titanium necklace. These will accent your titanium rings and other modern titanium accessories. Titanium jewelry gives your outfit a chic and fashionable mark and goes with a variety of color schemes. Titanium chains are a contemporary choice if you are looking to vary from the norm of the traditional gold chains for men or even for women. This is the perfect gift for those who dislike traditional yellow gold.
Browse our selection of titanium pendants. If you are looking for a cross necklace for men, our titanium chains will be the perfect addition to your collection. Our men's cross necklaces come in a variety of shapes and styles. Some of our titanium necklaces even have gemstones for a pop of color that will really stand out against your titanium chain and pendant.
Fully Versatile Titanium Rings
Titanium is a metal that is as attractive as it is durable. With the numerous shapes and styles offered at Titanium Style, you can get a ring that is sure to draw some attention. Check out a classic titanium ring or even consider our flat design. This titanium ring is sure to add some sophistication to your titanium collection. This pipe-cut titanium ring design is an extremely modern look with a level of elegance. Consider one of our fashionable rings for a titanium wedding band for the very special person in your life.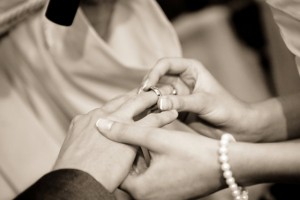 We have many titanium ring designs to choose from. One elegant style of ring is the domed triple band titanium ring. The ridges break up space in the ring and make it even segments. It looks like three separate bands in one titanium ring. This unique and fashionable ring is the ultimate choice for a titanium wedding band. The cooler, metallic look of titanium rings will be a welcome change. Whether you are looking to stay trendy or just want an alternative band, titanium wedding bands offer exceptional style and a contemporary vibe. Not only do we have a full selection of men's wedding bands, but we also have a variety of titanium rings for women as well.
Black Wedding Rings and Alternative Style Wedding Bands
For an alternative sign of love, consider browsing our selection of black wedding rings. Our tungsten rings are a classic example of the versatility and elegance of Titanium Style rings. Virtually scratch proof, this tungsten ring is sure to be a favorite in any fall collection or autumn-themed wedding. The black ceramic and rolled sides of this tungsten ring is the ultimate eye-catching, must-have titanium piece this season. Whether you are seeking men's tungsten wedding bands, anniversary bands or just a meaningful birthday gift, our tungsten rings will stand up to the wear and tear of your active life. They are sure to be the perfect momentum for any special occasion.
Titanium Rings for Any Season
Titanium rings are also the perfect transition into cooler, winter months. This chic, silver tones will glisten against falling leaves or even the snow and is sure to catch everyone's eye. Your titanium ring will be a stylish segue into winter fashion. Whether you are looking at a hammered, sandblasted or inlaid ring, Titanium Style Avant Garde will help you find the perfect titanium ring for you or your loved ones. It will be sure to be your favorite piece this winter. If you want a strip of gold, a splash of emerald or even a titanium cross, browse our titanium rings or our titanium chain inventory for a welcome addition to your collection. Rest assured, the brilliant, metallic sheen of titanium rings and other titanium jewelry never go out of style.
Shop now! By clicking the link
1-513-520-0527
sales@titaniumstyle.com