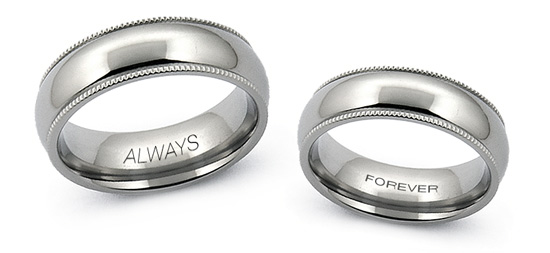 When it finally comes time to pick out your wedding rings, you may think that your work is done as soon as you decide on the perfect titanium or tungsten ring. While that may be the case for some, many couples choose to take things one step further by having their jeweler engrave a special message into each of the bands. Why? Well there may be a number of people in the world who have the same or a very similar ring as you, but with a personal engraved message, that ring becomes totally and completely yours.
Now with titanium being a particular hard metal, a lot of couples are deterred, believing that engraving would be far too difficult. Well the truth of the matter is that though titanium is in fact a hard metal, with the expert staff and top-quality tools we have here at Avant Garde Jewelry, we are able to create perfect engraving inside titanium rings every time. But you may wonder – what about tungsten carbide and ceramic rings, which are even harder than titanium? Well for these particular bands, we use a special method using a diamond, which is the only thing that can mark the surface of these types of rings. Our engraving machine will use a diamond-tipped stylus to engrave any type of personal message you'd like inside of your ring in either bold or italic print.
Now that you know that you don't have to choose between an engraving or a titanium or tungsten ring, the only big decision that you'll have to focus on is what you'd like your ring to say. Of course, there is no right or wrong answer when it comes to deciding, as long as it is a message that means something to you both and your relationship together. If you're looking for a place to start, consider a few of the most popular types of engravings, such as your names and the date of your wedding, lyrics from your first dance song, bible passages, poetry, cute nicknames or an inside joke.
Once you have the perfect message in mind for your engraving, simply contact Avant Garde Jewelry and we will get to work on creating the perfect wedding bands for you and your love.
Shop now! By clicking the link
1-513-520-0527
sales@titaniumstyle.com
(Posted by: Anton Polishuk of Avant Garde Jewelry)