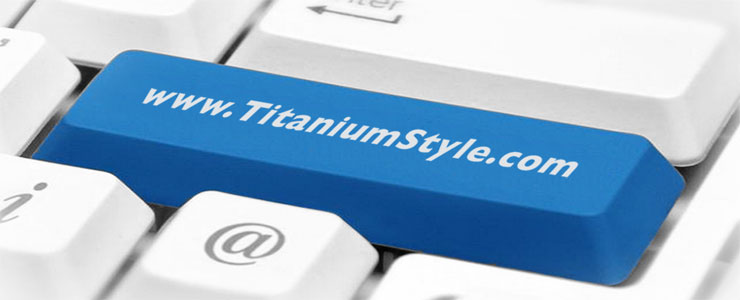 With online jewelry stores, shopping for an accessory for yourself or a loved one has become such a breeze. If you're on the lookout for titanium jewelry, you'd certainly find a number of dealers on the Internet. But before settling with one, it's important that you know the exact terms, conditions, and services the store offers to get the best deal.
Titanium is gaining popularity these days as a material for jewelry due to its unique and desirable properties. The metal can make everyday accessories such as rings, necklaces, and bracelets lightweight and especially durable, thanks to its high strength-to-weight ratio compared to gold, silver, and platinum. It is also hypoallergenic and resistant to common causes of corrosion such as chlorine, sea water, and certain types of acids.
Being extremely durable and requiring very little maintenance, titanium jewelry should be able to remain in its original condition, appearance, and form despite being worn every day. Nevertheless, it's still important that your dealer offers comprehensive repair services in case of breakage, noticeable deformation, and similar forms of damage, as well as a lifetime warranty that gives you protection against an imperfect design, poor workmanship, and sub-par materials. These services not only show dedication to customer service, but also the dealer's confidence in the quality of its products.
If you're looking for titanium rings, it's also important that the dealer offers individually crafted products instead of stock items. Given the durability of the metal, titanium rings can be difficult and costly to resize, which is why the right size must be determined first. Quality titanium jewelry stores can help ensure that you get a proper fit by providing you with a sizing set by mail after you place an order. Additionally, check if the dealer has a return and exchange policy in case there are sizing issues.
At Titanium Style, our lifetime warranty speaks highly of the excellent quality of our titanium jewelry. Our warranty covers products crafted from titanium, Ti-6/4, Ti-66/2, as well as tungsten carbide, with lifetime repair and replacement guarantee for any defect that may occur with normal wear.
We also offer free sizing services for every titanium ring order as well as re-finishing services free of charge. In case of sizing issues, you can return the ring to us within 14 days for an exchange. For more details, please check out the terms and conditions of our lifetime warranty.
Call us at 1-800-408-6756 to know more about collection and services or for assistance in finding the right jewelry for yourself or a loved one.